Yanpat volcano
Shield(s) 1205 m / 3953 ft
Kamchatka Peninsula, Russia, 56.53°N / 158.8°E
Current status
: (probably) extinct (0 out of 5) |
Reports
Yanpat volcano books
Typical eruption style
: unspecified
Yanpat volcano eruptions
: None during the past 10,000 years
Less than few million years ago (Pleistocene)
| | | | |
| --- | --- | --- | --- |
| Time | Mag. / Depth | Distance | Location |
Background:
Yanpat and Vetrovoy volcano to the north are late-Pleistocene Icelandic-type shield volcanoes (Ogorodov et al. 1972).
---
Source: Smithsonian / GVP volcano information
See also:
Sentinel hub
|
Landsat 8
More on VolcanoDiscovery
Introduction to Plate Tectonics
: The Earth's upper, rigid layer is broken into several plates which are in constant motion to one another. Most earthquakes and volcanoes occur as result of these plate boundaries.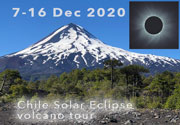 Solar Eclipse & volcano tour
: A total solar eclipse will occur on 14 Dec 2020 and pass over southern Chile and Argentina. Chile's most active volcano Villarrica is located exactly on the center line where the eclipse will be best to observe.
We offer you the unique chance to combine the eclipse with a tour to one the world's most beautiful volcanic areas - the Lake District in Chile.