Carte des volcans actuellement en éruption
Propositions de voyages:
Canary Islands
Walking and study tour to the Canary Islands: Lanzarote, La Palma, El Hierro and Tenerife
14 days / 13 nights - Variable (dépendant de l'itinéraire choisi et vos préférences)
3450 € $£¥
26 sept. - 9 oct. 2020
Îles Éoliennes (Sicile)
Excursions en groupe ou avec guide privé pour observer le volcan Stromboli
5-7 h (après-midi / soirée) - Modérée
à partir de 40 EUR p.p.
Départs sur commande possibles
Chaque jour entre 15 mars - 1 nov
Mexico
5 days expedition to observe and photograph Colima volcano, Mexico
5 days / 4 nights - Facile
1750 € $£¥
Départs sur commande possibles
on request on custom dates
Nisyros (Grèce)
7-jours voyage randonnées & étude sur l'île volcanique de Nisyros, Grèce
7 Jours (6 nuits) - Modérée
1460 € $£¥
pas de groupe programmé pour le moment
Le Krakatau, détroit de la Sonde
expédition pour étudier et observer l'activité du volcan l'Anak Krakatau
5-8 Jours - Facile
sur demande
Départs sur commande possibles
when erupting
1-5 oct. 2020
3 juin - 19 janv. 2021
Java (Indonésie)
16-jours d'étude à la découverte des volcans de Java, Indonésie
16 Jours - Facile-Modérée
2950 € $£¥
Départs sur commande possibles
1-16 oct. 2020
1-16 nov. 2020
18 mai - 2 juin 2021
Danakil desert + Semien Mountains (Ethiopia)
15 days expedition and trekking to Erta Ale volcano, Dallol, Lalibela and Semien mountains (Ethiopia)
- Modérée
$ 4100 €£¥
Départs sur commande possibles
Plus sur VolcanoDiscovery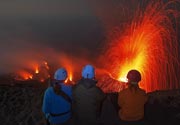 VolcanoDiscovery tours
: A selection of our most popular trips, which we have been offering and improving over many years now: Stromboli & Etna, Santorini, Java, Ethiopia, Nyiragongo and more. Have a look!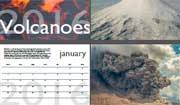 Volcano Calendar 2016
: We're proud to present our new volcano calendar 2016: 13 different and attractive images of volcanoes, volcanic landscapes and phenomena taken during volcano tours over the past few years.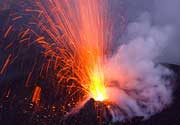 Climbing Stromboli volcano
: Stromboli provides one of the most remarkable opportunities to watch volcanic eruptions from close: a natural ridge located 150 m above the active vents. A classic and all-time favorite tour by anyone interested in seeing active volcanoes!