Look up quakes in your region or country
Currently erupting volcanoes
Featured tours
Kyushu (Japan)
5-day volcano expedition to observe Sakurajima volcano's activity from close
5 days / 4 nights - Easy
on request
no scheduled dates at present

Kamchatka (Russia)
volcano expedition to Kamchatka
16-19 days - Easy to Moderate
4590 € $£¥
29 Aug - 16 Sep 2021
Canary Islands
Walking and study tour to the Canary Islands: Lanzarote, La Palma, El Hierro and Tenerife
14 days / 13 nights - Custom (variable)
3450 € $£¥
26 Jun - 8 Jul 2021
Iceland
15-days geology and photo tour to Iceland
15 days / 14 nights - Moderate
3550 € $£¥
24 Jun - 8 Jul 2021
30 Jul - 13 Aug 2021
Nisyros Island (Greece)
8-days walking & study tour on the volcanic islands of Nisyros & Cos, Greece
7 nights / 8 days - Moderate
1460 € $£¥
no scheduled dates at present
Eolian Islands (Italy)
group and private tours to watch Stromboli volcano
5-7 hours (afternoon / evening) - Moderate
from 40 EUR p.p.
Custom and group dates
Any day between 15 Mar - 1 Nov
Vanuatu
11-day volcano expedition to Ambrym - individual departures & group tours
11 days - Moderate
3150 € $£¥
no scheduled dates at present
More on VolcanoDiscovery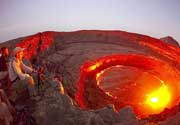 Tours to active volcanoes
: Watching a volcanic eruption is one of the most impressive natural displays. We have a wide selection of tours to active volcanoes worldwide at different activity and difficulty levels.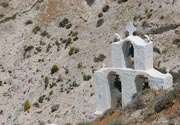 Private geology tour on Santorini
: We offer you private geology tours to get to know the extraordinary geology and natural history of the island, but also aspects of the deep connection with its cultural history and archaeology.