Tue, 21 Jul 2020, 09:26
An ash plume from Raung volcano on 16 July (image: PVMBG)
The alert level for the volcano was
raised to "yellow"
, as an increase of volcano-tectonic earthquakes have been recorded since 16 July.
...more
read all
Fri, 17 Jul 2020, 06:40
Raung volcano covered by clouds today (image: PVMBG)
VAAC Darwin recorded a first eruption since August 2015 when the volcano's most significant eruption in at least 100 years was over.
...more
Thu, 16 Jul 2020, 08:15
Satellite image of Raung volcano on 16 Jul 2020
More on VolcanoDiscovery: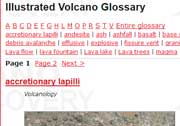 A violent vulcanian-type explosion from Anak Krakatau in pictures step by step.