Mt Spurr volcano news & activity updates
Tue, 22 Jan 2013, 08:17
Seismicity continues to be slightly elevated.
Mon, 21 Jan 2013, 06:17
Wed, 16 Jan 2013, 10:15
Read more...
read all
More on VolcanoDiscovery
If you find the website useful and would like to support us and help keep it alive and improve it, please consider
making a small donation
.
Thank you!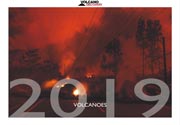 Volcano Calendar 2019
: We're proud to present our 2019 volcano calendar: 13 different and attractive images of volcanoes, volcanic landscapes and phenomena taken during volcano tours over the past few years.