On-take volcan
volcan complexe 3063 m / 10,049 ft
Honshu, Japon, 35.89°N / 137.48°E
Condition actuelle: normal / en sommeil (1 sur 5)
Last update: 2 oct. 2018 (steaming, low seismic activity)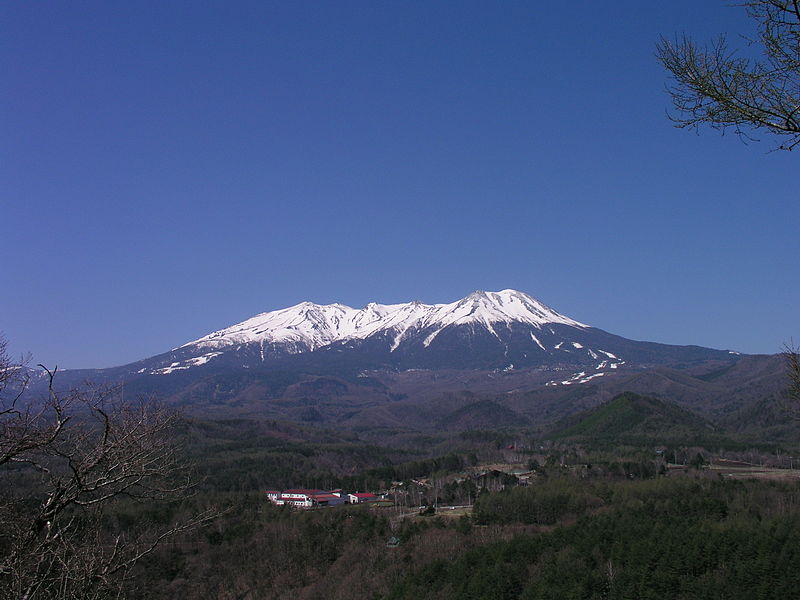 Mt.Ontake, viewed from Kuzo Pass of Route 361 (pictrure: Atsushi Ueda / Wiki Commons)
On-take, or correctly Ontake-san (御嶽山), is a massive stratovolcano and the second highest in Japan. It is located at the southern end of the Northern Japan Alps.
Its first historic eruption occurred in 1979. A landslide in 1984 was not related to an eruption and produced a debris avalanche and lahar running down valleys south and east of the volcano.
On-take volcano is one of the holy mountains of Japan and the destination for religious pilgrimage since 1792.
Montrer carte interactive
Style éruptif tipique
: explosive
Eruptions du volcan On-take
: 1979-80, 774 AD
Latest nearby earthquakes
Heure
Mag. / Profondeur
Distance/Lieu
Tue, 27 Jul 2021 (GMT) (1 séisme)
Jul 27, 2021 17:31:05.64

(27 Jul 2021 08:31:05 GMT)




3.2


9.7 km
27 km (17 mi)
7.5 km au sud-est de Takayama, Préfecture de Gifu, Japon
Sun, 18 Jul 2021 (GMT) (1 séisme)
Jul 18, 2021 23:09:06.56

(18 Jul 2021 14:09:06 GMT)




3.7


6.4 km
39 km (24 mi)
27 km à l'ouest de Matsumoto, Préfecture de Nagano, Japon
Sat, 17 Jul 2021 (GMT) (2 séismes)
Jul 17, 2021 21:12:00.68

(17 Jul 2021 12:12:00 GMT)




2.8


233 km
39 km (24 mi)
21 km à l'ouest de Matsumoto, Préfecture de Nagano, Japon
17 juil. 2021 18:07 (GMT +9)

(17 Jul 2021 09:07:50 GMT)




4.1


2.8 km
49 km (30 mi)
Takayama Shi, Préfecture de Gifu, 33 km à l'ouest de Matsumoto, Japon
Introduction
On-take's summit cone was built in a largely buried 4 x 5 km caldera. It lies at the southern end of the Norikura volcanic zone, which extends northward through Norikura volcano to Yake-dake volcano.
The older volcanic complex of Ontake consists of at least 4 major stratovolcanoes that were constructed from about 680,000 to about 420,000 years ago, after which On-take was inactive for more than 300,000 years.
The broad, elongated summit of the younger edifice is cut by a series of small explosion craters along a NNE-trending line. Several phreatic eruptions from On-take post-date the roughly 7300-year-old Akahoya tephra from Kikai caldera.
---
Source: On-take volcano information from Smithsonian / GVP



1979 first historic eruption
Around 5:00 on 28 October 1979 the first historic eruption of On-take volcano occurred from a fissure on the southwestern slope of the main peak, Kengamine.
The eruption produced a tephra column of 1500 meters and there was ashfall in Maebashi City 150 km away. A 30 m diameter crater and 9 small craters on a NW-SE lline were formed above the eruptive fissure.

See also: Sentinel hub | Landsat 8