Sakurajima volcano
estratovolcán 1117 m / 3,665 ft
Kyushu, Japan, 31.59°N / 130.66°E
Current status: erupción (4 out of 5)
Last update: 6 May 2021 (Volcanic Ash Advisory)

Sakurajima (also spelled Sakurashima or Sakura-jima, 桜島 in Japanese) volcano in southern Kyushu is one of the most active volcanoes in the world, and one of the few that are at present in constant (persistant) activity. Its ongoing typical activity range from strong strombolian to large ash explosions every 4-24 hours.
The volcano is located across Kagoshima Bay only 8 km east of the city of Kagoshima with a population of half a million. Sakurajima's eruptive history has been recorded since the 8th century. It has frequently deposited ash on Kagoshima, and due to its explosive potential, considered a very dangerous volcano and closely monitored.
The largest historical eruptions of Sakurajima took place during 1471-76 and in 1914.
Typical eruption style
: Explosivos
Erupciones del volcán Sakurajima
: 1955-ongoing, 1954(?), 1950, 1948, 1946, 1942, 1941, 1940, 1939, 1938, 1935, 1914-15, 1899(?), 1860, 1799, 1797, 1794, 1792, 1791, 1790, 1785, 1783, 1782, 1779-81, 1756, 1749, 1742, 1706, 1678, 1670(?), 1642, 1478, 1471-76, 1468, 778, 766, 764, 716-18, 712(?), 708
Latest nearby earthquakes
Fecha / Hora
Revista / Profundidad
Distancia/Ubicación
Tue, 15 Jun 2021 (GMT) (1 terremoto)
Jun 15, 2021 17:31:01.98

(15 Jun 2021 08:31:01 GMT)




2.8


103 km
27 km (17 mi)
Soo Shi, Kagoshima, 17 km al oeste de Miyakonojō, Japón
Wed, 9 Jun 2021 (GMT) (1 terremoto)
Jun 10, 2021 07:24:26.99

(9 Jun 2021 22:24:26 GMT)




3.2


161 km
50 km (31 mi)
Mar de la China Oriental, 6.7 km al sureste de Makurazaki, Kagoshima, Japón
Background
Sakurajima's present day volcano is a new volcanic cone inside the 17 x 23 km wide Aira caldera forming the northern half of Kagoshima Bay. The caldera formed around 22,000 years ago during a Plinian eruption that produced large pyroclastic flows.
Around 13,000 years ago, another smaller caldera, the so-called Wakamiko caldera was formed in the NE corner of the Aira caldera and was partially filled by volcanic cones. One of the new vents in this caldera eventually became present-day Sakura-jima located on the southern rim of Aira caldera. Sakurajima's early activity took place mainly at the Kita-dake summit cone until about 4850 years ago, after which its vent shifted to Minami-dake. The construction of Sakurajima formed a new island that was joined to the Osumi Peninsula during the major explosive and effusive eruption of 1914.
Sakurajima Fotos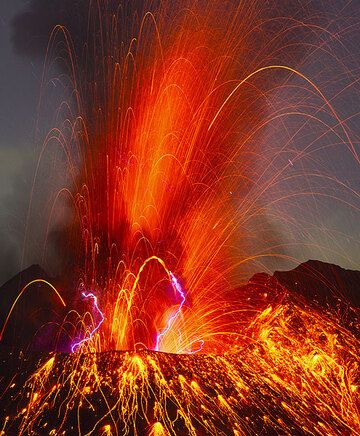 Estromboliana potente explosión del volcán Sakurajima, Japón, en 13:48 UTC en 27 Sep 2013 (22:48 hora local) (Photo: Tom Pfeiffer)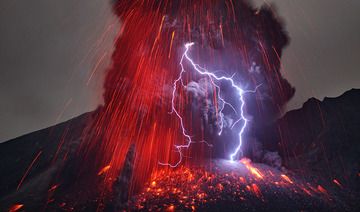 Un rayo en la columna de erupción de una explosión del volcán Sakurajima, Japón (2013) (Photo: Martin Rietze)
La explosión más grande observada de cerca se produjo a las 23h 33 (14:33 UTC) - aunque la erupción no fue mencionada en Tokio VVAC, el penacho de ceniza fue al menos tan...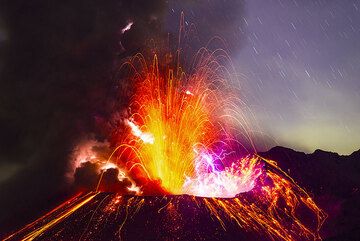 La misma erupción dos minutos después del comienzo todavía sigue fuerte, con mucha luz y fuentes de lava y ceniza. Volcán Sakurajima, J.... (Photo: Tom Pfeiffer)
2006-2010 Activity: moderate explosions at 1-5 days intervals
Moderate explosions with typical plume heights of around 2 km occured every 1-5 days during most of 2006-10. In 2009, a slight increase of activity was observed. Plume heights of explosions reached a maximum of 5 km altitude (4 km height). ...
màs
4 June 2006: first eruption outside the summit crater in 58 years
On 4 June 2006, Sakurajima erupted from a small vent outside the summit crater, near or within the crater which erupted the 1946 (Showa) lava flow on the E slope of Minami-dake summit. The eruption continued intermittently until the next morning.
Activity in 2000-2005
Sakurajima returned to low to medium levels of activity, with 150-200 eruptions per year. Occasional stronger explosions, such as on 7 October 2000, caused eruption columns as tall as 5 km above the crater, abundant ash falls, and damage windshields to cars.

Oct - Dec 1999 eruptions
Vigorous activity began in October 1999, marked by lava fountains and large large amounts of ejected ballistic bombs, blocks and lapilli falling as far as 4 km from the crater. ...
màs
Activity in the 1990s
Compared to the 1980s, activity remained at lower levels at Sakurajima in the 1990, with explosions often occurring only at intervals of several days. Long pauses in explosive activity characterize the year 1995. ...
màs
Activity in the 1980s
Explosions continue to occur typically one per day or two. Between 1985 and 1987, the activity produces particularly violent eruptions, peaking in November with 3 powerful explosions that cause much damage to cars and houses by impacting volcanic bombs. ...
màs
Activity in the 1970s
Sarkurajima's activity was characterized by typically one explosion per day. THe largest eruptions produced plumes up to 4 km high, and on several occasions, landing aircraft at Kagoshima airport were damaged when flying through ash.
The eruptions caused no fatalities, but damaged cars, windows and crops in the immediate area around the volcano. ...
màs

See also: Sentinel hub | Landsat 8