Bromo volcan
Mise à jour: 18 août. 2022 11:35 GMT -
Refresh
Stratovolcano 2329 m / 7,641 ft
East Java, Indonesia, -7.94°S / 112.95°E
Condition actuelle: normal / en sommeil (1 sur 5)
Last update: 8 déc. 2021 (Smithsonian / USGS Weekly Volcanic Activity Report)

Mt. Bromo volcano in East Java is the active cone inside the giant Tengger caldera, one of Indonesia's most scenic locations destination in East Java, famous for its magnificient sunrise views and the panorama over the caldera with Semeru volcano in the background.
Montrer carte interactive
Style éruptif tipique:
Explosive. Frequent small, phreatic eruptions at Bromo cinder cone on the bottom of the caldera.
Eruptions du volcan Bromo:
1804, 1815, 1820, 1822, 1825, 1829, 1830, 1835, 1842, 1843, 1844, 1856, 1857, 1858, 1858, 1859, 1860, 1865, 1865, 1866, 1867-68, 1877, 1885, 1885-86, 1886, 1886-87, 1888(?), 1890, 1893, 1896, 1906-07, 1907, 1907-08, 1909, 1910, 1915-16, 1921, 1922, 1928, 1930, 1935, 1939, 1940, 1948, 1950, 1955, 1956, 1972, 1980, 1983(?), 1983, 1984, 1995 (March-May), 1995 (Sep-Dec), 2000 (Nov)-2001 (Jan), 2004 (June), 2010 (Nov)-2011 (Jun) , 2015 (Nov)- 2016 (Nov), 2019 (Mar-Jul), 2020 (Dec), 2021 (Apr-Oct)
Derniers séismes proches:
No recent earthquakes
Introduction
The 16-km-wide Tengger caldera is located at the northern end of a volcanic massif extending from Semeru volcano. The massive Tengger volcanic complex dates back to about 820,000 years ago and consists of five overlapping stratovolcanoes, each truncated by a caldera. Lava domes, pyroclastic cones, and a maar occupy the flanks of the massif. The Ngadisari caldera at the NE end of the complex formed about 150,000 years ago and is now drained through the Sapikerep Valley. The most recent of the Tengger calderas is the 9 x 10 km wide Sandsea Caldera at the SW end of the complex, which formed incrementally during the late Pleistocene and early Holocene. An overlapping cluster of post-caldera cones was constructed on the floor of the Sandsea Caldera within the last several thousand years. The youngest of these is Bromo, one of Java's most active and most frequently visited volcanoes.
Bromo Photos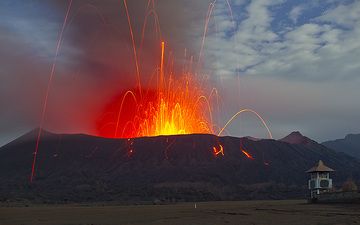 A powerful vulcanian-type explosion shakes the ground. Many incandescent bombs are thrown many hundreds of meters into the night sky, and many of them land outside the cr...
The glowing vent(s) illuminate the diffuse steam and ash plume above Bromo's crater bright red at night. (Photo: Tom Pfeiffer)
Strombolian eruption at Mt. Bromo volcano in Feb 2011 - this photo was selected for the 2012 IAVCEI volcano calendar. (Photo: Tom Pfeiffer)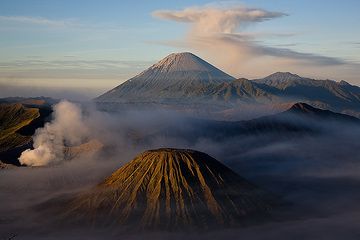 Volcanic trio: Batok cinder cone (foreground), smoking Bromo, and majestic Semeru with an umbrella cloud.
This view of East Java's Tengger caldera (Indonesia) is o...
Voyages au volcan Bromo :

Du Krakatau à Bali
(16-jours d'étude à la découverte des volcans de Java, Indonésie)

Les volcans actifs de Java
(17 jours de voyage et de trekking sur les volcans actifs de Java)

Rêve Planétaire - Le Tour des Volcans du Monde
(4 semaines de découvertes autour du Monde à Hawai'i - Vanuatu - Nouvelle Zélande - Indonésie)

Volcans de l'Est-Java
(4 à 6 jours de randonnées à la découverte des volcans Bromo, Semeru et Ijen)

Bromo, Semeru, Ijen
(Voyage trekking sur les volcans Semeru, Bromo et Ijen (Est-Java))

See also: Sentinel hub | Landsat 8 | NASA FIRMS