Ibu вулкан
Обновленный: 7 дек 2022 23:41 GMT
-
Стратовулкан 1325 m / 4,347 ft
Halmahera, Indonesia, 1.48°N / 127.64°E
Текущее состояние: извергающийся (4 из 5)
Last update: 5 дек 2022 (Volcanic Ash Advisory)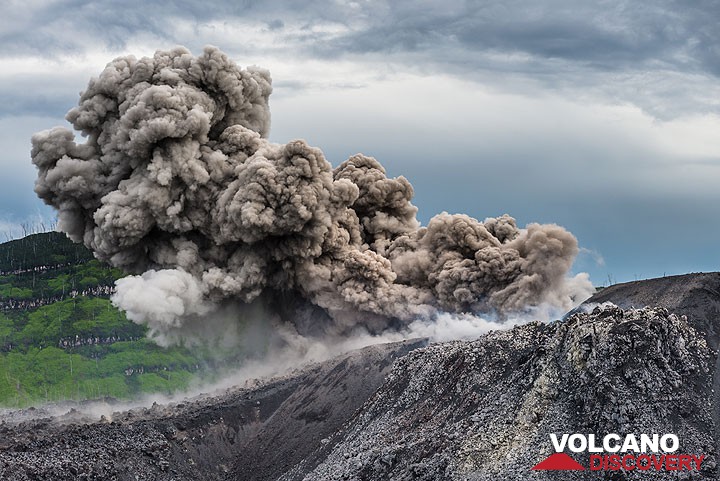 Strombolian explosion from the active vent in Ibu's lava dome (Dec 2014)
Only a few eruptions have been recorded from Ibu in historical time, the first was a small explosive eruption from the summit crater in 1911. An eruption producing a lava dome that eventually covered much of the floor of the inner summit crater began in December 1998.
Показать интерактивную карту
Типичный извержения стиль:
ВЗРЫВООПАСНЫЕ
Ibu Вулкан-извержения:
2012-ongoing, 2009, 2008, 2004-05, 2001, 1998-99, 1911
Latest nearby earthquakes
Нет недавних землетрясений
Справочная информация
Ibu volcano, located along the NW coast of Halmahera Island, is a stratovolcano with a truncated summit and a number of large nested summit craters. The inner crater, 1 km wide and 400 m deep, contained several small crater lakes through much of historical time. The outer crater, 1.2 km wide, is breached on the north side, creating a steep-walled valley. A large parasitic cone is located ENE of the summit. A smaller one to the WSW has fed a lava flow down the western flank. A group of maars is located below the northern and western flanks of the volcano.
Ibu Фото
| | |
| --- | --- |
| The lava flow emerging from its tube. Caused by friction and the sudden contact with cold air, successive segments of crust form at the exit, resulting in a progressive d... | Вулкан, комплекс Кайзерштуль расположена на юго-западе Германии недалеко от города Фрайбург. Это один из самых интересных volca ... (Photo: Tobias Schorr)... |



See also: Sentinel hub | Landsat 8 | NASA FIRMS
Ibu volcano tours
17 days volcano trekking tour to the Molucca Sea: N-Sulawesi, Karangetang and Halmahera
17 days / 16 nights - Умеренный
Price 3570 €