Methana
Lava domes 740 m
Saronic Gulf, Greece, 37.62°N / 23.34°E
Aktueller Status: normal / ruhend (1 von 5)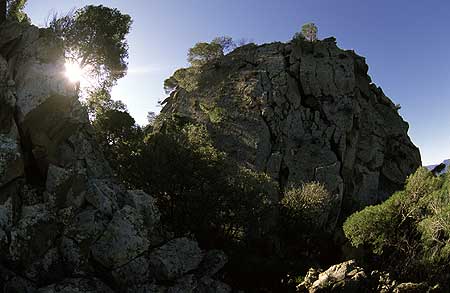 Methana's historic lava dome which formed in 238 BC.
Methana peninsula, located opposite Aegina Island in the Saronic Gulf of Greece, is the northwestern, still weakly active part of the Aegean volcanic arc.
An eruption in 238 BC built a small lava dome on the northern tip of the peninsula and was described by Greek and Roman historians (e.g. Pausanias). Methana peninsula is famous for its hot springs and thermal baths, hence its name.
More detailed information can be found at www.methana.com !
Typische Tätigkeit:
Effusive, construction of lava domes, hydrothermal explosions.
Ausbrüche:
around 1700 (submarine eruption of "Pavsanias", aprox. 1,5 km north-west of Methana), 238 B.C (near Kameni Hora)
Letzte Erdbeben in der Nähe:
Zeit
Stärke / Tiefe
Entfernung / Lage
Mittwoch, 3. August 2022 GMT (1 Beben)
3. Aug. 2022 05:28 (GMT +3)

(3. Aug. 2022 02:28 GMT)




1.3


9 km
42 km (26 mi)
Greece: 4 Km SSW From Kechries
Dienstag, 2. August 2022 GMT (1 Beben)
2. Aug. 2022 17:07 (GMT +3)

(2. Aug. 2022 14:07 GMT)




1.7


12 km
28 km (17 mi)
Ägäisches Meer, 53 km südwestlich von Athen, Attika, Griechenland
Beschreibung
Methana volcanic system comprises a group of 32 lava mostly dacitic lava domes, whose formation started about 1-2 million years ago. The latest activity was likely around 1700 AD in form of a submarine eruption off the northern coast.
An active hydrothermal system characterizes the area, controlled by a E-W fault system that crosses the town of Methana where thermal springs are found.
Methana Fotos
Chelona Lavadom auf Methana (740m) (Photo: Tobias Schorr)
Chelona-Lava-Dome und der Golf von Epidaurus in Griechenland (Photo: Tobias Schorr)
The volcanic thermal baths of Methana, Greece (Photo: Tobias Schorr)
Blocky lavas from the historic lava dome (around 256 BC) on Methana, Greece. Island of Angistri in the Saronic Gulf in background. (Photo: Tom Pfeiffer)

Siehe auch: Sentinel hub | Landsat 8 | NASA FIRMS