Geologie und Erdwissenschaften - eine Einführung
Aktualisiert: 29. Jan. 2023 13:45 GMT
-
Geologe stammt von den griechischen Worten gea=Erde und logos=Studium ab. Als Wissenschaft beschreibt sie also unsere Erde, auf der wir leben. Im engeren Sinne beschäftigt sie sich als Naturwissenschaft v.a. mit dem Aufbau der zum größten Teil festen Erde, ihren Gesteinen, den Prozessen im Inneren und Äußeren, die sie v.a. an der Oberfläche ständig verändern.
Besonders bedeutend sind dabei das Wirken von Vulkanen und Erdbeben.
Die nachfolgenden Unterabschnitte sind in absehbarer Zeit zum Großteil allerdings nur in der englischen Version verfügbar.
Wählen Sie einen Abschnitt: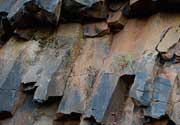 Igneous or magmatic rocks
The most primitive rock type forms when magma (molten rock) solidifies - either inside the earth (plutonic rocks) or during volcanic eruptions (volcanic rocks). A short overview.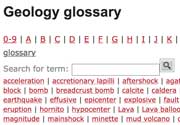 Glossary of geologic terms
A growing list of often illustrated explanations and definitions of geological terms and keywords, with focus on volcanology and seismology.