Pacaya volcano
Actualizado: 30 jun. 2022 16:11 GMT -
Refresh
Complex volcano 2552 m (8,373 ft)
Guatemala, 14.38°N / -90.6°W
Current status: normal or dormant (1 out of 5)
Last update: 17 abr 2022 (Smithsonian / USGS Weekly Volcanic Activity Report)

Pacaya volcano near Guatemala City is one of Guatemala's most active volcanoes, and its frequent eruptions are often visible from Guatemala City. Typical activity in recent years includes strombolian activity, lava flow emission and intermittend violent phases of lava fountaining.
Typical eruption style:
Ligeramente explosivo y efusivo (actividad estromboliana, fountaining lava, flujos de lava desde el cráter de la cumbre). Cerca continuamente activo menos durante los siglos pasados.
Erupciones del volcán Pacaya:
1360, 1565, 1623(?), 1651, 1655, 1664, 1668, 1671, 1674, 1677(?), 1678, 1690, 1693, 1699, 1717(?), 1760(?), 1775, 1805, 1830(?), 1846, 1885, 1961, 1965, 1970, 1972, 1973, 1976, 1977, 1978, 1980 - May 1998 (intense period of summit activity), 1999-2003, 2004-2010, 2012, 2013, 2014
Lastest nearby earthquakes:
Fecha / Hora
Revista / Prof.
Distancia/Ubicación
martes, 28 junio 2022 GMT (1 sismo)
28 jun 2022 14:49 (GMT -6)

(28 jun 2022 20:49 GMT)




4.5


25 km
249 km (155 mi)
Océano Pacífico Norte, 62 km al suroeste de Puerto Madero, México
domingo, 19 junio 2022 GMT (1 sismo)
19 jun 2022 04:20 (GMT -6)

(19 jun 2022 10:20 GMT)




4.2


30 km
221 km (137 mi)
Océano Pacífico Norte, 62 km al suroeste de Tapachula, México
viernes, 17 junio 2022 GMT (1 sismo)
16 jun 2022 21:09 (GMT -5)

(17 jun 2022 02:09 GMT)




4.3


79 km
176 km (109 mi)
35 km al sur de Tapachula, Estado de Chiapas, México
Background
Pacaya is a complex basaltic volcano constructed just outside the southern topographic rim of the 14 x 16 km Pleistocene Amatitlán caldera. A cluster of dacitic lava domes occupies the southern caldera floor. The post-caldera Pacaya massif includes the Cerro Grande lava dome and a younger volcano to the SW. Collapse of Pacaya volcano about 1100 years ago produced a debris-avalanche deposit that extends 25 km onto the Pacific coastal plain and left an arcuate somma rim inside which the modern Pacaya volcano (MacKenney cone) grew. A subsidiary crater, Cerro Chino, was constructed on the NW somma rim and was last active in the 19th century.
During the past several decades, activity at Pacaya has consisted of frequent strombolian eruptions with intermittent lava flow extrusion that has partially filled in the caldera moat and armored the flanks of MacKenney cone, punctuated by occasional larger explosive eruptions that partially destroy the summit of the cone.
Source: GVP
Pacaya Fotos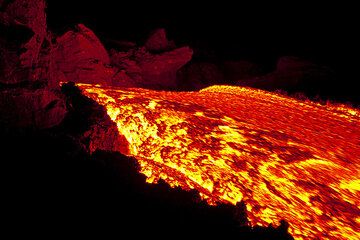 View onto the fast flowing lava (Photo: Tom Pfeiffer)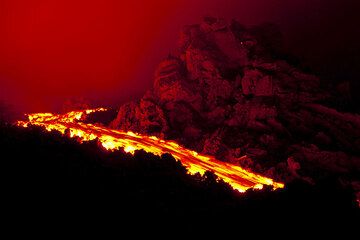 Lava flow at Pacaya volcano (Photo: Tom Pfeiffer)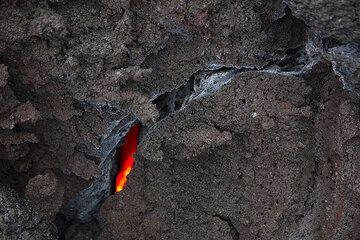 El interior de la corriente de lava de refrigeración esté brillando caliente. (Photo: Tom Pfeiffer)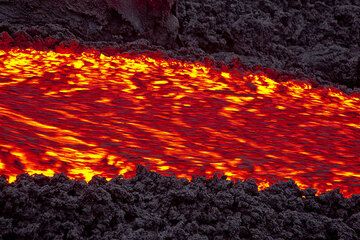 Zoom en el flujo de lava (Photo: Tom Pfeiffer)

See also: Sentinel hub | Landsat 8 | NASA FIRMS