Kilauea volcan
Shield volcano 1277 m (4,190 ft)
Hawai'i, 19.41°N / -155.29°W
Condition actuelle: en vigilance - niveau agité (2 sur 5)
Last update: 23 juil. 2021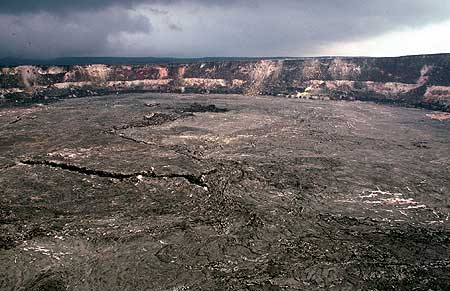 Haleamaumau crater in the center of the Kilauea caldera - the heart of Kilauea volcano
Le volcan de bouclier-Hawaiian plus jeune et plus actif. Il est près de-constamment en éruption d'évents sur son sommet (caldeira) ou sur les zones de rift.
Montrer carte interactive
Style éruptif tipique
: Dominant effusive depuis 1790, mais ~ de 60% au cours des derniers explosive ~ 2500 ans.
Eruptions du volcan Kilauea
: Near-continuous eruptions. Since 1960: 1961 (4x), 1962, 1963 (2x), 1965 (2x), 1967-68, 1968 (2x), 1969, 1969-74, 1971 (2x), 1973 (2x), 1974 (3x), 1975, 1977, 1979, 1980, 1982 (2x), 1983-2008 (ongoing)
Latest nearby earthquakes
Heure
Mag. / Profondeur
Distance/Lieu
Tue, 3 Aug 2021 (GMT) (5 séismes)
3 Aug 2021 08:14:22 GMT


1.9


36 km
29 km (18 mi)
2 Km E of Pāhala, Hawaii
3 Aug 2021 07:58:03 GMT


1.7


1.7 km
6 km (3.7 mi)
6 Km S of Volcano, Hawaii
3 Aug 2021 07:57:50 GMT


1.7


2.3 km
6.2 km (3.9 mi)
6 Km S of Volcano, Hawaii
3 Aug 2021 06:45:53 GMT


2.3


31 km
23 km (14 mi)
9 Km ENE of Pāhala, Hawaii
3 Aug 2021 06:39:13 GMT


1.7


34 km
31 km (19 mi)
2 Km SSE of Pāhala, Hawaii
Introduction
Le volcan Kilauea, un volcan bouclier jeune, assis sur le flanc sud-est du volcan bouclier Mauna Loa massif, est le plus jeune volcan (sur terre) de l'hawaïen hot spot et non seulement le plus actif volcan d'Hawaï, mais en même temps aussi, volcan actif du monde. Il a été en activité constante de près car il y a l'histoire orale ou écrite, et c'est avoir une éruption ininterrompue depuis 1983 (à l'heure actuelle à le Pu'u 'O'o vent sur l'East rift zone).

Ses éruptions sont visibles dans les légendes polynésiennes hawaïen et documentation écrite sur son activité de retourner uniquement des années 1820 quand il a commencé à attirer des visiteurs intéressés de partout dans le monde et bacame l'un des points névralgiques de volcanologie.

Le Kilauea est une caldeira de grand sommet avec un cratère central, Halemaumau, qui est selon les légendes hawaïennes la maison de la déesse du feu Pele. Jusqu'en 1924, il contenait un lac de lave. Le Kilauea a sommet fréquente et flanc lave flux éruptions qui sont produisent le long de deux zones de rift allongées au sud-ouest et à l'est, qui s'étendent jusqu'à la mer des deux côtés du volcan. La caldeira de 3 x 5 km a été formée en plusieurs étapes, il y a environ 1500 ans. Environ 90 % de la surface du volcan bouclier basaltique est formée de coulées de lave moins environ 1100 ans ; 70 % de la surface du volcan est plus jeune que 600 ans. L'éruption à long terme de la zone de rift East qui a débuté en 1983 a produit des coulées de lave couvrant plus de 100 km2, détruisant presque 200 maisons et ajout de nouvelle côte de l'île.
Kilauea Photos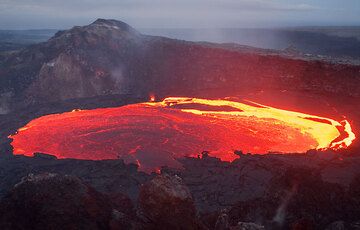 Lac de lave à l'intérieur du cratère de Gap ouest du volcan Kilauea. La croûte entière couvrant le lac a juste été renversée, exposant l'intérieur éclatant de red hot. ha...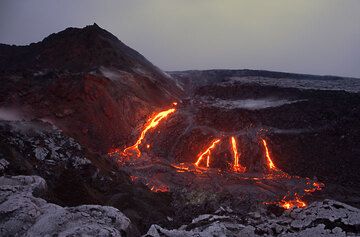 Plusieurs bouches effusives disposés en une ligne d'un dyke, des coulées de lave d'alimentation en Puka Nui s'effondrer fosse Pu'u 'O'o cratère, volcan Kilauea. hawaii_e7...
Voyages au volcan Kilauea :

Hawaii - Birthplace of Islands
(14 days walking and study tour to Oahu, Kauai, Maui, Hawai'i)

Rêve Planétaire - Le Tour des Volcans du Monde
(4 semaines de découvertes autour du Monde à Hawai'i - Vanuatu - Nouvelle Zélande - Indonésie)
Pele´s Fire and Myths
(7 days walking tour exploring Kilauea´s historic eruption sites, Hawai'i)

See also: Sentinel hub | Landsat 8