Kilauea volcan
Mise à jour: 8 août. 2022 22:16 GMT -
Refresh
Shield volcano 1277 m (4,190 ft)
Hawai'i, 19.41°N / -155.29°W
Condition actuelle: en éruption (4 sur 5)
Last update: 3 août 2022 (Smithsonian / USGS Weekly Volcanic Activity Report)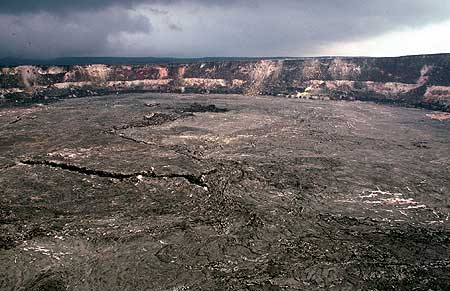 Haleamaumau crater in the center of the Kilauea caldera - the heart of Kilauea volcano
Kilauea is the youngest and most active Hawaiian shield volcano, located on the southern part of the Island of Hawai'i, known as Big Island. Hawai'i is the southernmost and largest of the island chain, which owes its existence to the very active Hawaiian hot spot.
Kilauea volcano is near-constantly erupting from vents either on its summit (caldera) or on the rift zones. At present, Kilauea volcano is still having one of the most long-lived eruptions known on earth, which started in 1983 on the eastern rift zone and has mainly been concentrated at the Pu'u 'O'o vent.
Montrer carte interactive
Style éruptif tipique:
Dominant effusive depuis 1790, mais ~ de 60% au cours des derniers explosive ~ 2500 ans.
Eruptions du volcan Kilauea:
Near-continuous eruptions. Since 1960: 1961 (4x), 1962, 1963 (2x), 1965 (2x), 1967-68, 1968 (2x), 1969, 1969-74, 1971 (2x), 1973 (2x), 1974 (3x), 1975, 1977, 1979, 1980, 1982 (2x), 1983-2018 (incl. 1986, 1992, 1997, 2007, 2011 (3x)), 2018 (lower east rift zone in Leilani subdivision), 2020 (Dec) - ongoing
Derniers séismes proches:
Heure
Mag. / Profondeur
Distance/Lieu
jeudi, 4 août 2022 GMT (1 séisme)
3 août 2022 14:04 (GMT -10)

(4 août. 2022 00:04 GMT)




2.1


0.5 km
36 km (22 mi)
24 Km E of Honaunau-Napoopoo, Hawaii
mercredi, 3 août 2022 GMT (4 séismes)
2 août 2022 21:36 (GMT -10)

(3 août. 2022 07:36 GMT)




2.3


0.2 km
35 km (22 mi)
Hawaii Region, Hawaii
2 août 2022 19:07 (GMT -10)

(3 août. 2022 05:07 GMT)




2.3


0.3 km
36 km (22 mi)
25 Km E of Honaunau-Napoopoo, Hawaii
2 août 2022 19:01 (GMT -10)

(3 août. 2022 05:01 GMT)




2.1


0.6 km
35 km (22 mi)
25 Km E of Honaunau-Napoopoo, Hawaii
2 août 2022 18:51 (GMT -10)

(3 août. 2022 04:51 GMT)




1.9


0.3 km
35 km (22 mi)
25 Km E of Honaunau-Napoopoo, Hawaii
Introduction
Kilauea volcano, a youthful shield volcano, sitting on the south east flank of the massive Mauna Loa shield volcano, is the youngest volcano (on land) of the Hawaiian hot spot and not only the most active volcano of Hawaii but at the same time also the world's active volcano. It has been in near-constant activity since there is oral or written history and it is having an uninterrupted eruption since 1983 (at present at the Pu'u 'O'o vent on the East rift zone).

Its eruptions are prominent in Hawaiian Polynesian legends and written documentation about its activity go back to only 1820s when it started to attract interested visitor from all over the world and bacame one of volcanology's hot spots.

Kilauea has a large summit caldera with a central crater, Halemaumau, which is according to Hawaiian legends the home of the fire goddess Pele. Until 1924, it contained a lava lake. Kilauea has frequent summit and flank lava flow eruptions that are occurring along two elongated rift zones to the south-west and to the east, which extend to the sea on both sides of the volcano. The 3 x 5 km caldera was formed in several stages about 1500 years ago. About 90% of the surface of the basaltic shield volcano is formed of lava flows less than about 1100 years old; 70% of the volcano's surface is younger than 600 years. The long-term eruption from the East rift zone that began in 1983 has produced lava flows covering more than 100 sq km, destroying nearly 200 houses and adding new coastline to the island.
Kilauea Photos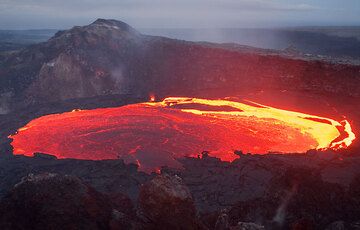 Lac de lave à l'intérieur du cratère de Gap ouest du volcan Kilauea. La croûte entière couvrant le lac a juste été renversée, exposant l'intérieur éclatant de red hot. ha...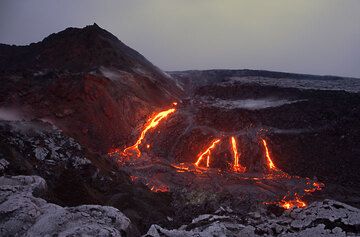 Plusieurs bouches effusives disposés en une ligne d'un dyke, des coulées de lave d'alimentation en Puka Nui s'effondrer fosse Pu'u 'O'o cratère, volcan Kilauea. hawaii_e7...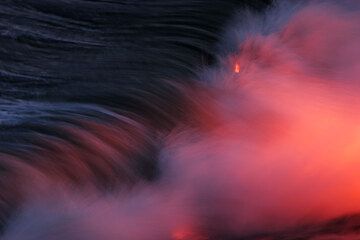 Vague déferlante sur lave éclatant. Volcan Kilauea, Big Island, Hawai 'I (Photo: Tom Pfeiffer)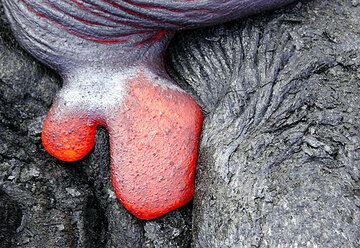 Une coulée de lave pahoehoe du volcan Kilauea. (Photo: Tom Pfeiffer)
Voyages au volcan Kilauea :

Hawaii - Birthplace of Islands
(14 days walking and study tour to Oahu, Kauai, Maui, Hawai'i)

Rêve Planétaire - Le Tour des Volcans du Monde
(4 semaines de découvertes autour du Monde à Hawai'i - Vanuatu - Nouvelle Zélande - Indonésie)
Pele´s Fire and Myths
(7 days walking tour exploring Kilauea´s historic eruption sites, Hawai'i)

See also: Sentinel hub | Landsat 8 | NASA FIRMS