Santorini volcan
Caldera (complexes strato) 329 m (on caldera rim) / 128 m (top of most recent lava shield, Nea Kameni)

Condition actuelle: normal / en sommeil (1 sur 5)
Last update: 26 Mar 2019 (seismic swarm off the southwest of the island)

View of the caldera of Santorini from Fira town, with the young volcanic island of Nea Kameni in the background.
Santorin est une île volcanique de groupe à la fin du Centre-Sud des Cyclades en mer Egée (Grèce). En tant que destination touristique populaire en Grèce, il est réputé pour sa mer remplie de spectaculaires caldeira volcanique sourrounded par des falaises colorées, la beauté de ses villages et les champs.
Montrer carte interactive
Style éruptif tipique
: Dominantly explosive, with effusive activity during intervals. Powerful explosive, so-called Plinian eruptions appear to occur every 10-30,000 years. Construction of lava shields and minor to irregularly spaced subplinian explosive activity during interval times.
Eruptions du volcan Santorini
: 1613 BC +-7 years (the so-called "Minoan eruption", one of the largest plinian eruptions during the past 10,000 years on earth) 197 BC, 46/47 AD, 726, 1570-1573, 1707-1711, 1866-1870, 1925-1928, 1939-1941, 1950
Heure
Mag. / Profondeur
Distance/Lieu
dimanche, 19. septembre 2021 19:45 GMT (2 séismes)
19 sept. 2021 22:45 (GMT +3)

(19. sept. 2021 19:45 GMT)




2.9


10.8 km
20 km (12 mi)
Mer Égée, 17 km au nord-est de Oia, Kykladene, South Aegean, Grèce
19 sept. 2021 22:44 (GMT +3)

(19. sept. 2021 19:44 GMT)




2.6


8.2 km
20 km (12 mi)
Mer Égée, 17 km au nord-est de Oia, Kykladene, South Aegean, Grèce
samedi, 18. septembre 2021 02:46 GMT (1 séisme)
18 sept. 2021 05:46 (GMT +3)

(18. sept. 2021 02:46 GMT)




1.7


8.2 km
19 km (12 mi)
Mer Égée, 17 km au nord-est de Oia, Kykladene, South Aegean, Grèce
mardi, 14. septembre 2021 23:28 GMT (1 séisme)
15 sept. 2021 02:28 (GMT +3)

(14. sept. 2021 23:28 GMT)




2.0


10.1 km
21 km (13 mi)
Mer Égée, 18 km au nord-est de Oia, Kykladene, South Aegean, Grèce
vendredi, 10. septembre 2021 21:52 GMT (1 séisme)
11 sept. 2021 00:52 (GMT +3)

(10. sept. 2021 21:52 GMT)




2.5


5 km
25 km (16 mi)
Mer Égée, 19 km au sud-est de Emporeio, Kykladene, South Aegean, Grèce
Introduction
Le groupe de l'île de Santorin est le centre volcanique plus connu et les plus actif de l'Arc volcanique Hellenic dans la mer Égée Sud. C'est un volcan très complexe dominé par une caldeira de gros, mer-inondé, créée par plusieurs grandes éruptions explosives. Les différents produits d'environ 2 millions d'années d'activité volcanique ont accumulé autour d'un petit sous-sol non volcanique, qui formée autrefois une petite île semblable pour les autres îles des Cyclades. La plupart des couches volcaniques sont visible dans les séquences multicolores de l'impressionnantes murs intérieurs abruptes de la caldeira, frappant le visiteur qui atteint l'île par bateau.La dernière éruption a eu lieu dans une éruption phréatique sur l'île de la Nea Kameni en 1950.

L'éruption minoenne
L'activité volcanique de Santorini au cours des 2-500 000 ans a été dominé par très grandes éruptions explosives à inverals de quelques dizaines de milliers d'années. La plus récente de ce type a eu lieu à vers 1645 av. J.-C. et est connue comme l'éruption minoenne soi-disant. L'éruption âge du Bronze tardive, un des plus gros explosions volcaniques connues dans le temps plus jeunes - et l'un des éruptions plus étudiés, mais encore plus mystérieuses de tous les temps-, dévasté non seulement de Santorin, mais a eu un impact profond sur l'ensemble de la Méditerranée orientale. Peut-être il a même eu des effets graves mondial et a changé l'histoire.
Aujourd'hui encore, on peut voir ses dépôts, la caractéristique, des dizaines de mètres une épaisse couche de ponces blanc et de cendres que la plupart de la surfact du groupe de l'île de couvertures. L'éruption a radicalement changé la forme de l'île elle-même : on pense maintenant qu'avant l'éruption, elle avait la forme d'un anneau presque complet qui entourait une caldeira plus tôt, moins profonde. Ensuite, des sections importantes de l'île s'est effondré dans la chambre magmatique vide après l'éruption, littéralement disparaître sous la mer. L'anneau-île a été violée à la w et NW et la caldeira a été considérablement élargie et approfondie.
L'éruption minoenne dévasté les riches, très développé centre économique, que Santorin était à l'époque. Depuis 1969, des fouilles archéologiques intenses ont mis en lumière une ville importante de cycladique/Minoan qui avait été enterrée sous les cendres volcaniques pendant près de 4000 ans. Même s'il semble que les gens avaient le temps d'évacuer leur île à temps avant l'éruption, transportant la plupart de leurs marchandises avec eux, les constatations de Akrotiri sont impressionnantes : en particulier, ils comprennent bien préservés et magnifiques de peintures murales, céramiques et autres objets. Grâce au travail de nombreux archéologues, une nouvelle lumière fut jetée sur une importante période préhistorique et la culture. La découverte spectaculaire même induit des spéculations continues qui se rapportent à la destruction volcanique de Santorin la légende de l'Atlantide engloutie.

Les éruptions historiques du volcan de Santorin (glumelles et Nea Kameni)
Bien qu'à l'heure actuelle en dormance, Santorin a été actif plusieurs fois dans des temps historiques. Depuis sa dernière éruption explosive (à environ 1645 BC) le major nombreux mineur et moyennes, principalement des éruptions effusives ont eu lieu. Cette activité a construit les îles de couleur foncée de l'AEN et glumelles Kameni à l'intérieur de la caldeira. Leur première apparition était assistée et signalée par les auteurs grecs et romains. La dernière éruption sur Nea Kameni s'est produite en 1950. À l'heure actuelle, Santorin est en sommeil et volcanisme manifestates comme activité fumerolles et hot springs autour des îles.
Santorini Photos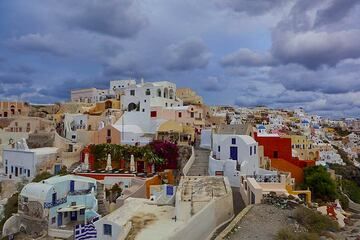 Oia town, Santorini (Photo: Tom Pfeiffer)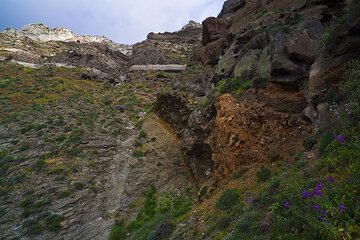 The contact between the metamorphic basement and volcanic rocks (Photo: Tom Pfeiffer)
1950 eruption
10. Jan. 1950 - 2. Feb. 1950: Small effusive activity ("Liatsikas" lavas) preceded by phreatic explosions.
More info
1939-41 eruption
20. Aug. 1939 - July 1941 -- Formation of several lava domes ("Tritona", "Ktenas", "Fouqué", "Smith-Reck" and "Niki"). Extrusive and slighly explosive activity. Lava outflow in most cases preceeded by phreatic explosions.
more info
1925-28 eruption
11. Aug. 1925- 17. March 1928 -- Moderate effusive and explosive activity. Growth of Nea Kameni. Lava flows, lava fountains and ash-falls.
- Aug. 1925 -- Rising temperature in the Red bay ("Kokkina Nera", gr. = red waters) at the eastern shore of Nea Kameni and subsidence of Nea Kameni's east shore. Vapor fountains and lava outflow. ...
plus
1866-1870 eruption
4. Feb. 1866 - 15. Oct. 1870 -- Moderate effusive and minor explosive activity. Mikri and Nea Kameni unite. Lava flows, lava fountains and ash-falls. ...
plus
1711 - 1866 activity
No volcanic activity occurred during 1711-1866. Mikri and Nea Kameni were 2 separated islands forming 2 natural bays (Georgios and Vulkano bay). Sulfuric fumaroles in Vulkano bay. Building of a small harbor and ca. 50 summerhouses (!) on Nea Kameni.
1707-1711 eruption: Nea Kameni appears
23. May 1707 - Sept. 1711 -- Formation of Nea Kameni (gr., = "the new burnt island"). Strong surtseyan and effusive activity. Ash-fall and gas explosions. Lowering of the coastline of Thera and Mikri Kameni. ...
plus
1650 Kolumbo volcano eruption
27. Sept 1650 -- Kolumbo submarine volcano (ca. 8 km NE of Cape Kolumbo, Santorini): strong surtseyan-subplinian eruption with ash and pumice fall, toxic gasses (>50 fatalities). Generation of a strong tsunami.
more info on Kolumbo volcano
1570 eruption: Mikri Kameni Island appears
Formation of Mikri Kameni (gr., = "small burnt island"). Surtseyan activity, ash-fall and block fall-out accompany the formation of a lava dome which rises above sea level to form the new island Mikri Kameni.
1457-1458 activity
Unclear reports from Athanasius Kircher (1665) and Buondelmonte (1465/66) indicate that either a part of Palea Kameni collapsed and disappeared or a new island between Palea Kameni and Thera was built.
726 AD subplinian (?) eruption
Strong explosive probably sub-plinian eruption. Records by Nicephoros (758-823), Theophanes (752-818) and Cedremus (after 1059). Probably small effusive activity following the pumice eruption creating the black blocky lava lobe at Agios Nikolaos (the small harbor bay with the church and hot iron springs).
46 - 726 AD activity
No reports of activity are known from that period. There was either actually no eruption or it has not been recorded.
46 AD eruption - appearance of a new island
Appearance of a new island that probably grew together with Hiera and formed the basis of Palea Kameni. Descriptions by Roman historians Seneca (4 BC-65 AD), Livy (59 BC-AD 17), Pliny the Elder (23-79 AD), Dio Cassius (ca. 200 AD), Aurelius Victor (4th century AD), Philostratos (ca. 200 AD), Orosius (5th century AD), Cassiodorus. (418-562 AD), Labbreus (1670). Probably surtseyan activity with updoming of the sea-floor.
197 BC eruption: appearance of Palea Kameni
Formation of an island called Hiera (gr., = "the holy one") inside the caldera, probably a precursor of Palea Kameni. Documented by greek and Roman writers: Strabo (66BC - 24 AD), Plutarch (ca. 40-120 AD), Pausanias (ca.120 AD), Justinus (2nd century AD), Eusebius from Cesarea (270-340 AD) and Ammianus Marcellinus (ca. 330-400 AD). Probably surtseyan activity with updoming of the sea-floor (comparable with the 1707-1711 events).
1613 +- 13 BC Minoan eruption
The most recent plinian eruption on Santorini occurred in the late Bronze Age at around 1613 BC and is known as the so-called Minoan eruption. It is one the biggest known volcanic explosions in younger time,- and one of the most studied, but still most mysterious eruptions of all time-. It devastated not only Santorini, but had a deep impact on the whole of the Eastern Mediterranean. Perhaps it even had serious world-wide effects and changed history.
Size of the Minoan eruption
Dating of the Minoan eruption
Still today, one can see its deposits, the characteristic, tens of meters thick layer of white pumice and ash that blankets most of the surface of the island group. The eruption changed the shape of the island itself dramatically: it is now believed that before the eruption, it had the shape of an almost complete ring that enclosed an earlier, shallower caldera.
Large sections of island collapsed into the emptied magma chamber after the eruption, literally disappearing under the sea. The ring-island was breached to the W and NW, and the caldera was significantly widened and deepened.
The Minoan eruption devastated the rich, highly developed economic center, that Santorini was at that time. Since 1969, intense archaeological excavations have brought to light an important Cycladic/Minoan town which had been buried beneath the volcanic ash for almost 4000 years. Although it appears that people had time to evacuate their island in time before the eruption, carrying most of their goods with them, the findings from Akrotiri are impressive: especially, they include well-preserved and magnificent wall paintings, ceramics and other objects. Thanks to the work of numerous archaeologists, a new light was thrown on an important prehistoric period and culture. The spectacular discovery even induced continuing speculations that relate the volcanic destruction of Santorini to the legend of the sunken Atlantis.
Voyages au volcan Santorini :
Lumière de la mer Égée
(voyage photo 8 jours à Santorin, Cyclades, Grèce)

See also: Sentinel hub | Landsat 8