Kolumbo volcan
Volcan sous-marin -18 m / -60 ft

Condition actuelle: normal / en sommeil (1 sur 5)
Last update: 20 avril 2021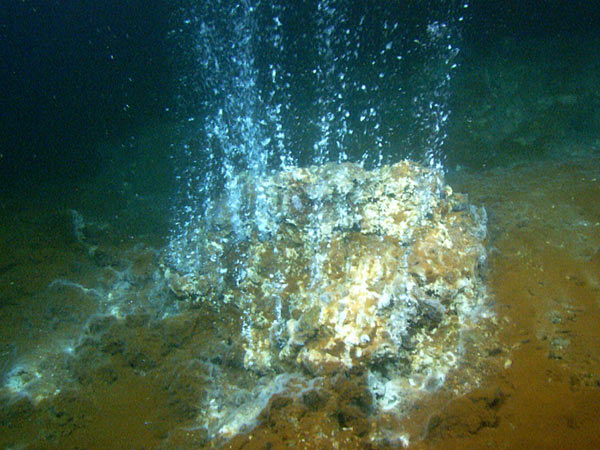 Hydrothermal vents occur when sea water enters the crust and comes in contact with the volcano's magma chamber. The hot fluid becomes enriched with minerals and then emerges through the vent; when it comes in contact with the colder seawater, its minerals are deposited and create mounds and 'chimneys'. Cyanobacteria use the hot water and minerals as an energy source through a process called chemosynthesis; this vent is covered with red, white, and black bacterial mats. Image taken by the ROV Hercules developed by the Institute for Exploration at Kolumbo underwater volcano, located northeast of Santorini in the Aegean Sea. Image courtesy of the Institute for Exploration, the University of Rhode Island (URI) Graduate School of Oceanography (GSO), and the URI Institute for Archaeological Oceanography.
Volcan Kolumbo (ous Kolumbos) is qu'un volcan sous-marin situ8 km au NE de l'le de Santorin DANS la mer ge. Le volcan HNE non elliptique SW-NE, allonge cne 3 km grande AVEC UNE profondeur de 500 m et large de 1,5 km cratre, les parties les plus les hautes de la jante, Qui a lieu 18-15 m sous le Niveau de la mer.
Le plancher du cratre, en Particulier DANS SA party nord, Contains des Nations Unies champion de fumerolles de haute temprature Importante et trs actif.
Le cratre du volcan Kolumbo HNE Une petite caldeira Qui pourrait AVOIR (UA de Dans certaines rgions Moins) formau cours de la Seule connuer du volcan MAIS trs Violente corruption dernire Qui a eu lieu en 1650 AD .
Montrer carte interactive
Style éruptif tipique
: explosive
Eruptions du volcan Kolumbo
: 1650
Latest nearby earthquakes
Heure
Mag. / Profondeur
Distance/Lieu
dimanche, 19. septembre 2021 19:45 GMT (2 séismes)
19 sept. 2021 22:45 (GMT +3)

(19. sept. 2021 19:45 GMT)




2.9


10.8 km
5.2 km (3.2 mi)
Greece: 33 Km SSW From Amorgos
19 sept. 2021 22:44 (GMT +3)

(19. sept. 2021 19:44 GMT)




2.6


8.2 km
4.8 km (3 mi)
Greece: 20 Km NNE From Santorini
vendredi, 10. septembre 2021 21:52 GMT (1 séisme)
11 sept. 2021 00:52 (GMT +3)

(10. sept. 2021 21:52 GMT)




2.5


5 km
32 km (20 mi)
Mer Égée, 19 km au sud-est de Emporeio, Kykladene, South Aegean, Grèce
mercredi, 8. septembre 2021 16:17 GMT (2 séismes)
8 sept. 2021 19:17 (GMT +3)

(8. sept. 2021 16:17 GMT)




2.4


10.7 km
1.8 km (1.1 mi)
Mer Égée, 14 km au nord-est de Oia, Kykladene, South Aegean, Grèce
8 sept. 2021 19:15 (GMT +3)

(8. sept. 2021 16:15 GMT)




2.7


9.8 km
2.2 km (1.4 mi)
Mer Égée, 14 km au nord-est de Oia, Kykladene, South Aegean, Grèce
Introduction
The large hydrothermal field in the northern part of the caldera at about 500 m depth contains a massive Kuroko-style sulfide deposit. Only few such deposits are known world-wide and they are of great interest, especially because of the typically high content of gold and silver in the sulfides. In 2010, the exploration Vessel (E/V) Nautilus discovered steep, up to 6 m high chimneys of sulfides above one of the vents.
1650 eruption of Kolumbo volcano
The 1650 eruption was a very explosive event and ejected pumice and ash as far as Turkey, and produced pyroclastic flows that killed about 70 people on Santorini. During the eruption, it constructed a temporary island (hence it's name Kolumbo, in Greece "swimming"). A tsunami occurred as well, probably during the collapse of the cone. It caused damage on nearby islands up to 150 km and invaded the flat coastal areas especially on the eastern side of Santorini, where ruins from Roman times were uncovered. The eruption also caused damage killed a great number of livestock because of poisonous gasses, mainly H2S.

Links:
- Thera 2006 Expedition Summary (NOAA Ocean Explorer)
- Special Volume of Oceanography(pdf)
- Follow Dr. Robert Ballard and his team as they explore the ocean on the E/V Nautilus



See also: Sentinel hub | Landsat 8