Etna vulcano
Aggiornato: 5 dic. 2022 14:49 GMT
-
Complesso stratovulcano Currently about 3329 m (changing due to eruptive activity and collapse of its crater rims)
Sicily, Italy, 37.75°N / 14.99°E
Stato attuale: attività minore o allarme eruzione (3 di 5)
Last update: 30 nov 2022 (Smithsonian / USGS Weekly Volcanic Activity Report)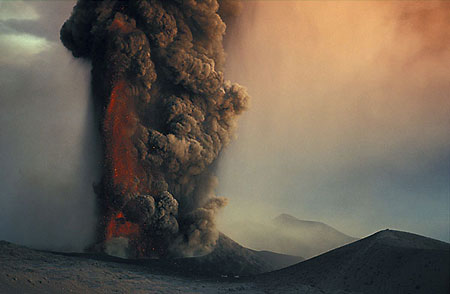 Eruption from Mt Etna volcano (Photo: Tom Pfeiffer)
Mt Etna on Sicily, locally called "Mongibello", is Europe's largest and most active volcano. Its frequent eruptions are often accompanied by large lava flows, but rarely pose danger to inhabited areas. Etna is one of the volcanoes with the longest historic records of eruptions, going back more than 2000 years.
Mostra la mappa interattiva
Stile eruttivo tipico:
Attività quasi continua ai crateri sommitali con esplosioni di tipo stromboliano ed episodi periodici di fontane di lava associati a colate. Ad intervalli irregolari di anni (da pochi mesi a diversi decenni) avvengono eruzioni laterali che producono effusioni di lava spesso associate a moderata attività esplosiva.
Eruzioni del vulcano Etna:
Near continuously active; some major historic eruptions include 122 BC (large Plinian outbursts that created the small caldera of the "Cratere del Piano"), 1669 AD (devastating flank eruption that destroyed 15 villages and part of Catania), 1787 (Subplinian eruption and one of the most spectacular summit eruptions on record - lava fountains reportedly up to 3000 m high).
Eruptions since 1950 (f: flank / s: summit activity):
1950 (s), 1950-51(f), 1955 (s), 1956 (s), 1956 (f), 1957 (s),1960 (s), 1961 (s), 1964 (f), 1964 (s), 1966 (s), 1966-1971(s), 1968 (f), 1971(f), 1972-1973 (s), 1974 (f), 1974-1975 (s), 1975-1977 (f), 1977-1978 (s), 1978 (f), 1979(s), 1979 (f), 1980 (s), 1981 (s), 1981 (f),1982-1983 (s), 1983(f), 1984(s), 1985(s), 1985(f), 1986(s), 1986-1987 (f), 1987(s), 1988(s), 1989(s), 1989(f), 1990 (s), 1991-93(f), 1995(s), 1996(s), 1997 (s), 1998 (s), 1999 (s), 2000 (s), 2001(s), 2001 (f), 2002(s), 2002-03(f), 2004-2005 (f), 2006 (s), 2007 (s), 2008-2009 (f), 2010(s), 2011-2013(s), 2014-18, 2018(f), 2019-ongoing (s)
Latest nearby earthquakes
Data / ora
Mag. / Prof.
Distanza/Ubicazione
sabato, 3 dicembre 2022 GMT (1 sismo)
3 dic 2022 11:54 (GMT +1)

(3 dic 2022 10:54 GMT)




1.6


7.1 km
14 km (8.7 mi)
Italy: 1 Km N Sant'Alfio (CT)
lunedì, 28 novembre 2022 GMT (1 sismo)
28 nov 2022 15:57 (GMT +1)

(28 nov 2022 14:57 GMT)




1.5


19 km
14 km (8.7 mi)
Italy: Randazzo (CT)
venerdì, 25 novembre 2022 GMT (3 sismi)
25 nov 2022 10:39 (GMT +1)

(25 nov 2022 09:39 GMT)




2.1


16 km
15 km (9.3 mi)
10.2 km a nord est da Bronte, Provincia di Catania, Sicilia, Italia
25 nov 2022 05:49 (GMT +1)

(25 nov 2022 04:49 GMT)




1.9


1 km
9.1 km (5.7 mi)
14 km a nord ovest da Giarre, Provincia di Catania, Sicilia, Italia
25 nov 2022 05:47 (GMT +1)

(25 nov 2022 04:47 GMT)




1.7


0.6 km
9.5 km (5.9 mi)
Italy: 8 Km W Linguaglossa (CT)
Sfondo
Mount Etna, towering above Catania, Sicily's second largest city, has one of the world's longest documented records of historical volcanism, dating back to 1500 BC. Historical lava flows cover much of the surface of this massive volcano, which makes it the highest and most voluminous in Italy. Ever since ancient times, the volcano seems to have been in near-constant activity. It is considered, after Kilauea on Hawaii, the second most active, i.e. productive volcano on earth.
Two styles of eruptive activity typically occur at Etna: (1) persistent explosive eruptions, sometimes with minor lava emissions, from one or more of the 4 prominent summit craters, the Bocca Nova, Voragine (the former Central Crater), NE Crater, and SE Crater (the latter formed in 1978). (2) Flank eruptions, typically with higher effusion rates, are less frequent and originate from fissures that open on the volcano's flanks. Such flank eruptions, such as the spectacular recent ones in 2001 and 2002-03 commonly form cinder cones, that dot the volcano in their hundreds.
Etna Photos
| | |
| --- | --- |
| Group on a narrow ledge that separates two vents on Etna volcano, Italy. (Photo: Tom Pfeiffer) | Dopo aver raggiunto il suo picco, l'eruzione svanisce rapidamente, ma un denso pennacchio di cenere marrone sorge ancora alto dalla bocca fessura. (Photo: Tom Pfeiffer) |
| Perfect steam ring from Etna volcano on 11 Nov 2013 (Photo: Tom Pfeiffer) | Strombolian activity at Etna's SE crater in October 2006. The lights of Catania in the background. (Photo: Tom Pfeiffer) |



See also: Sentinel hub | Landsat 8 | NASA FIRMS
Etna Tour di vulcano
15-day study & walking tour to Italy's volcanoes from Vesuvius to Etna
15 days (14 nights) - Easy to Moderate
Price 3890 €
walking & study tour with a volcanologist to Etna, Vulcano, Lipari and Stromboli
9 days (8 nights) - Easy to Moderate
Price 2950 €