Dana volcano
Stratovolcano 1354 m / 4,442 ft
United States, Alaska Peninsula, 55.64°N / -161.21°W
Current status: normal or dormant (1 out of 5)
Typical eruption style
: unspecified
Dana volcano eruptions
: 1890 BC (?)
Time
Mag. / Depth
Distance/Location
Thursday, October 21, 2021 13:18 GMT (1 earthquake)
Oct 21, 2021 5:18 am (GMT -8)

(Oct 21, 2021 13:18 GMT)




0.4


12 km
48 km (30 mi)
48 Km NE of King Cove, Alaska
Background
Mount Dana is a small calc-alkaline volcano NE of Canoe Bay inlet at the head of Pavlof Bay consisting of an apron of volcaniclastic debris surrounding a central dome complex. The 1354-m high point is located at the north rim of a 1.5 x 2 km crater, whose SW rim exposes Mesozoic sedimentary rocks. Andesitic lava domes occur on the west crater rim and as a small mound east of Knutson Lake inside the crater. Mount Dana is the source of a mid-Holocene block-and-ash flow that reached the sea at Canoe Bay. No historical eruptions are known from Dana, but a 200-m-wide tufa mound and several cold springs are located on the SW flank of the volcano.
---
Smithsonian / GVP volcano information
Dana Photos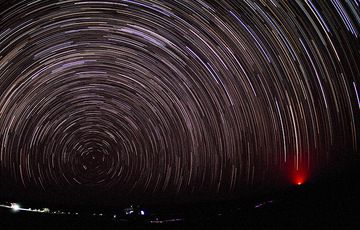 Moonless night over the Danakil desert looking north towards Polaris standing low above the horizon. The glow of distant Erta Ale volcano is visible in the right. (Photo:...
Tourists at the rim of Erta Ale's lava lake at night (Danakil desert, Ethiopia) (Photo: Tom Pfeiffer)
Warm water spring forms a bubbling green water pond in the middle of the salt plane, Lake Assale, Danakil desert, Ethiopia. A camel caravan passes on its way to the salt ...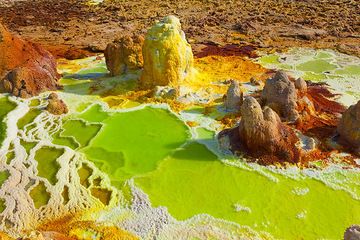 Bizarre green and yellow salt ponds and miniature terraces at Dallol hydrothermal field, Danakil desert, Ethiopia (Photo: Tom Pfeiffer)

See also: Sentinel hub | Landsat 8