Oki-Dogo
Schildvulkan 151 m / 495 ft
Honshu (Japan), 36.18°N / 133.33°E
Aktueller Status: normal / ruhend (1 von 5)
Oki-Dogo volcano is a complex of shield volcanoes forming small islands north of the SW Honshu city of Matsue in the Japan Sea off the west coast of Japan. Most of the volcanic activity took place 800,000-300,000 years ago, but there has probably been activity during the past 10,000 years as well, producing basaltic lava flows and a cinder cone.
Dogo-onsen Hot Spring is Japan's oldest spa. It is said to have been in operation since about 3000 years ago.
Typische Tätigkeit:
effusiv
Ausbrüche:
unknown, probably less than 10,000 years ago
Letzte Erdbeben in der Nähe:
Keine jüngeren Beben
Beschreibung
The alkaline basalts on Oki-Dogo are related to the opening of the Japan Sea and contain abundant mantle-derived xenoliths. The Daimanji-san lava flow overlies alluvial gravel containing an ancient water-jar. The name Takuhi-yama ("Burning Mountain") may record a tradition of an eruption. (GVP information)
Oki-Dogo Fotos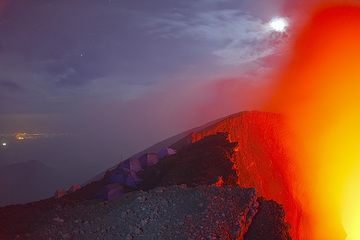 The lights of Goma town in the background left remind me of standing on Etna volcano and looking down to Catania... (Photo: Tom Pfeiffer)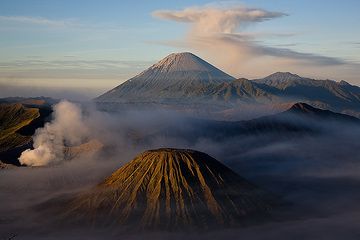 Vulkanisches Trio: der perfekte Kegel des Batok, der rauchende Krater des Bromo und der majestätische Semeru mit seiner regenschirmartigen Aschenwolke (Photo: Tom Pfeiffe...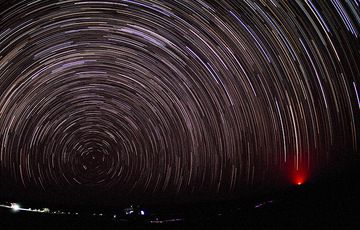 Moonless night over the Danakil desert looking north towards Polaris standing low above the horizon. The glow of distant Erta Ale volcano is visible in the right. (Photo:...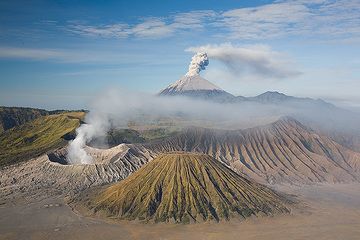 Ein Ausbruch des Semeru mit dem rauchenden Bromo und den zerfurchten Kegel des Batok im Vordergrund. (Photo: Tom Pfeiffer)

Siehe auch: Sentinel hub | Landsat 8 | NASA FIRMS