Licancabur volcano
Updated: Jul 6, 2022 06:34 GMT -
Refresh
stratovolcano 5916 m / 19,409 ft
Northern Chile, Bolivia and Argentina (South America), -22.83°S / -67.88°W
Current status: normal or dormant (1 out of 5)
Licancabur volcano is an active stratovolcano in northern Chile on the border with Bolivia, 40 km east of San Pedro de Atacama town. Liancabur has an impressive symmetric shape with constant 30 degrees slopes.
It is known for containing the world's highest lake inside its 400 m wide summit crater at at 5913 m.
Young blocky andesitic lava flows with prominent levees extend 6 km down the western flanks of the volcano. These and lava flows from flank vents are the most recent products, but the precise age of the last activity is not known.
Older lava flows have reached up to 15 km distance and are covered by pyroclastic flow deposits reaching up to 12 km distance from the crater.

Archaeological ruins were found on the crater rim of Volcán Licancabur.
Typical eruption style:
explosive
Licancabur volcano eruptions:
none in recent times, but within the past 10,000 years
Lastest nearby earthquakes:
Background
Laguna Verde (Green Lagoon, located at 4300 m) is a salt lake at the north eastern base of Juriques, an older Pleistocene stratovolcano next to Licancabur. Juriques volcano is located immediately to the SE and is capped by a 1.5-km-wide summit crater.
(Source: Smithsonian GVP Liancabur volcano information)

World's highest lake:
Licancabur volcano contains the world's highest lake inside its 400 m wide summit crater at at 5913 m. The lake measures 90 x70 m and has a temperature of 6 deg C. Remarkably, the lake is located in the Atacama desert, the driest place on Earth, and has been present for at least the past 500 years.
The lake provides an extremely harsh environment, but still there is life (extremophiles, planktonic fauna): low-oxygen partial and atmospheric pressure and intense UV radiation. The lake is kept above freezing due to geothermal heating from vents in the crater. Licancabur lake has been compared to ancient Martian lakes.
Licancabur Photos
Volcanoes Licancabur and Juriquues in Chile (Photo: Jiri VonDrak)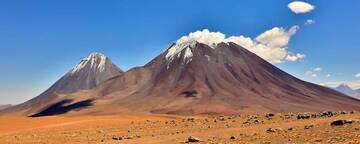 Volcanoes Licancabur and Juriquues in Chile (Photo: Jiri VonDrak)

Volcanoes Licancabur and Juriquues in Chile (Photo: Jiri VonDrak)

See also: Sentinel hub | Landsat 8 | NASA FIRMS