Lipari volcano
Updated: Jun 10, 2023 13:36 GMT
-
stratovolcano 602 m
Eolian Islands (Italy), 38.51°N / 14.95°E
Current status: normal or dormant (1 out of 5)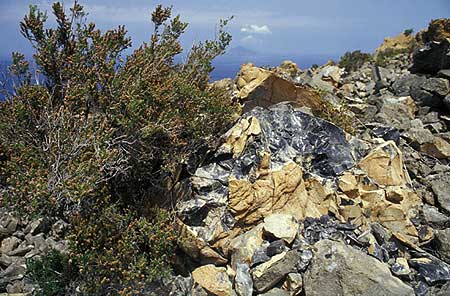 Obsidian block from the Rocce Rosse lava flow on Lipari Island
Lipari, the ancient Meligunis, is the largest island of the Eolian Archipelago and its economic and cultural center.
Typical eruption style:
dominantly explosive; eruptions of pumice, followed by construction of lava domes and effusion thick obsidian lava flows.
Lipari volcano eruptions:
729 AD (?, alternative date: 580 AD) at Monte Pilato, formation of "Rocce Rosse" obsidian flow
Latest nearby earthquakes
Time
Mag. / Depth
Distance/Location
Tuesday, June 6, 2023 GMT (1 quake)
Jun 6, 2023 9:12 pm (GMT +2)

(Jun 6, 2023 19:12 GMT)




1.7


121 km
24 km (15 mi)
Italy: Costa Siciliana Nord-orientale (Messina)
Saturday, May 27, 2023 GMT (1 quake)
May 27, 2023 7:57 pm (GMT +2)

(May 27, 2023 17:57 GMT)




0.9


9.7 km
28 km (17 mi)
Sicily, Italy
Background
It is located immediately north of Vulcano Island. The island contains numerous small stratovolcanoes, craters, and lava domes on a basement of submarine volcanic deposits.
The latest eruption in historic times, probably in 729 AD, at Monte Pilatus at the NE tip of the island, formed a spectacular obsidian lava flow. Since Ancient times, the island has been known for its rich deposit of pumice (the largest deposit in the world!) and obsidian, - a highly valued raw material to manufacture tools such as knives and arrowheads in the Stone and Bronze Age. Obsidian from Lipari has been found throughout the Mediterranean, proving that a vast trade network existed already during the 2nd millennium BC.
Lipari Photos
| | |
| --- | --- |
| Panorama view over Vulcano and Vulcanello in the foreground, Salina, Lipari, Panarea (near the rainbow) and in the distant background, Stromboli. (Photo: Tom Pfeiffer) | Old pumice quarries at Monte Pilato on Lipari (Photo: Tom Pfeiffer) |
| Pumice pebbles at the beach beneath the old, rusted pier of the pumice quarry on Lipari (Photo: Tom Pfeiffer) | The pumice quarries of Lipari and the obsidian lava flow "Rocce Rosse" (Photo: Tom Pfeiffer) |



See also: Sentinel hub | Landsat 8 | NASA FIRMS
Lipari volcano tours
15-day study & walking tour to Italy's volcanoes from Vesuvius to Etna
15 days (14 nights) - Easy to Moderate
Price 3890 €
9-day walking & study tour to Stromboli, Lipari, Vulcano and Etna with our expert volcanologist
9 days / 8 nights - Easy to Moderate
Price 2950 €