Sand Mountain volcano
cinder cones 1664 m / 5,459 ft
Oregon, Canada and USA (mainland), 44.38°N / -121.93°W
Current status: normal or dormant (1 out of 5)
Sand Mountain is a cluster of 23 cinder cones NW of Mt Washington, Oregon. The youngest eruption took place to form Lost Lake cinder cone at the north end of the chain about 2000 years ago.
Typical eruption style
: Explosive
Sand Mountain volcano eruptions
: 70 AD ± 150, 800 BC ±300, 900 BC ± 100, 1740 BC ± 300, 2290 BC ± 300 (all radiocarbon dated)
| | | |
| --- | --- | --- |
| Time | Mag. / Depth | Distance/Location |
Background
Most of the 23 basaltic and basaltic-andesite cinder cones of Sand Mountain volcanic field are aligned along a N-S trending line immediately west of the Cascade crest NW of Mount Washington. A secondary trend of alignment in NNW and NNE direction intersects the N-S line near the largest cinder cone, Sand Mountain.
Geologically young lava flows from vents on the western side were erupted between 3000-4000 years ago. The lava flows traveled mostly to the west, blocking local drainages and forming several small lakes.
Source: GVP
Sand Mountain Photos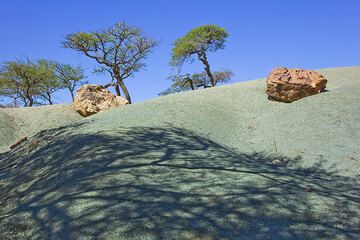 Green weathered sandstone in the Geralta mountains in northern Ethiopia. (Photo: Tom Pfeiffer)
Pravčická brána, Europe's largest natural sandstone arch, and in the background Rùžovský vrch, an ancient extinct basaltic volcano and the highest mountain (619 m) in the...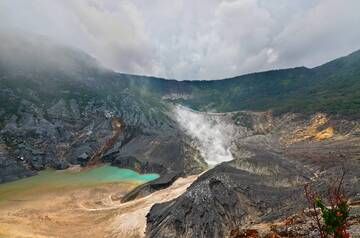 Kawah Ratu - Mt. Tangkuban Perahu, West Java, Indonesia

Mt. Tangkuban Perahu is Bandung's most famous volcano just 28 km north of the city. This volcano has a ...
Only the shape of Rùžovský vrch in the Elbe Sandstone Mountains reminds of its past as being an active volcano during the Tertiary period. (Photo: Janka)

See also: Sentinel hub | Landsat 8