Alaid volcano
Updated: Jul 6, 2022 04:02 GMT -
Refresh
stratovolcano 2339 m / 7,674 ft
Atlasov Island, Northern Kuriles, 50.86°N / 155.55°E
Current status: normal or dormant (1 out of 5)
Last update: 9 Dec 2021 (Smithsonian / USGS Weekly Volcanic Activity Report)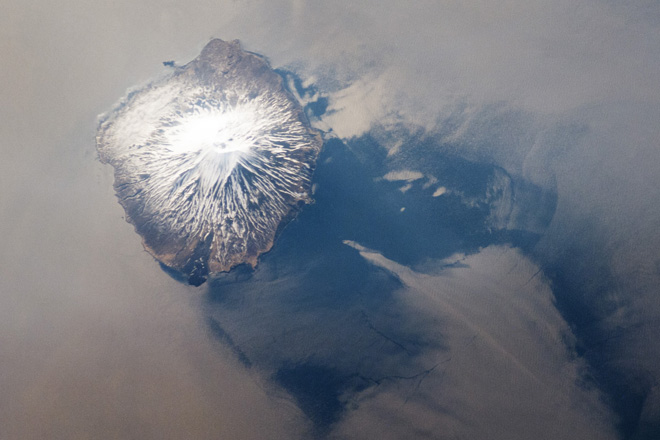 Space image of Alaid stratovolcano (NASA Earth Observatory http://earthobservatory.nasa.gov/IOTD/view.php?id=78290)
Alaid is the tallest and northernmost volcano in the Kurile Islands. Also called Atlasov as the island it forms, the symmetrical stratovolcano rises 3000 m from the sea floor and forms a small island. It has a 1.5-km-wide summit crater breached to the south. It is one of the Kuriles'most active volcanoes. Large explosive eruptions occurred in 1790 and 1981, and were among the largest in the Kuriles in historic times.
Typical eruption style:
explosive
Alaid volcano eruptions:
2016 (Mar-May), 2015-16 (Oct-Jan), 2012, 1997, 1996, 1986, 1982, 1981, 1972, 1933-34, 1894, 1860, 1854, 1790-93
Lastest nearby earthquakes:
No recent earthquakes
Background
Numerous flank cones dot the lower flanks of the basaltic to basaltic-andesite Alaid volcano, particularly on the NW and SE sides, including an offshore cone formed during the 1933-34 eruption.
Alaid has 2 types of eruptions: summit activity from the central crater as well as lateral eruptions. The eruptions from the central crater tend to be more explosive and are more dangerous. The largest eruptions from the central crater were in February 1793, June 1854, July 1860, 1894, and April 1981.
The principal volcanic hazard from Alaid are ash plumes dangerous for aircraft (many routes from N-America to Asia pass nearby).
Alaid Photos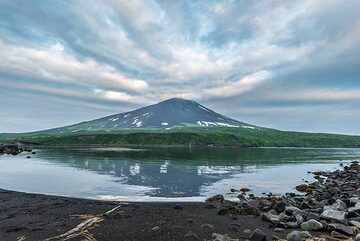 Alaid stratovolcano, Atlasof Island, Northern Kuriles (Photo: Tom Pfeiffer)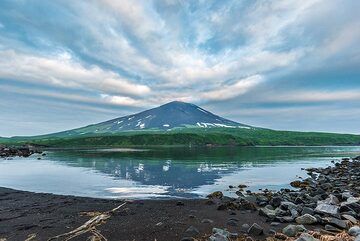 Alaid volcano on Atlasov Island (Photo: Tom Pfeiffer)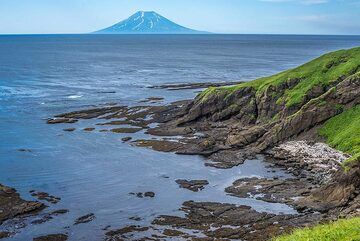 Small bay in the shoreline with Alaid in the background (Photo: Tom Pfeiffer)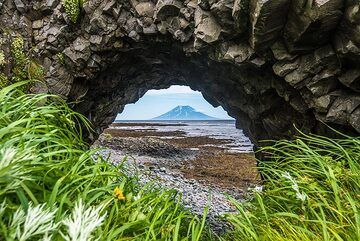 Natural bridge in the sea cliff with Alaid volcano in the background (Photo: Tom Pfeiffer)
2003 tremors
Seismic tremor began at Alaid volcano on 31 October and continued until November. The tremor was believed to be caused by strong winds, not caused by volcanic activity. (Source: GVP monthly roports)
1997 eruption
In August 1997, a thermal hotspot was visible on satellite images of the volcano indicating eruptive activity. Ashfall occurred on SW Kamchatka.
1996 eruption
Seismic activity increased in December 1996. Satellite images showed a plume reaching a height of 6 km above the volcano. A large snow storm prevented any visual observations. (GVP monthly reports)
1986 collapse of cone in summit crater
Aerial observations on 25 May 1986 revealed that the summit crater's 1981 cone (250 m high and 600 m across at its base) had been almost entirely destroyed recently. At its place there were 2 collapse craters, the larger of which measured 300 m across and ca. 100 m deep.
(Source:
GVP monthly reports
)
1981 eruption of Alaid volcano
The eruption of Alaid volcano in 1981 ranks as one of the largest in the Kurile Islands in historical times. ...
more
1972 lateral and submarine eruption
A lateral, partly submarine eruption began at Alaid volcano in June 1972. An eruptive fissure extended from the NW base of the volcano to the sea. The water-magma interaction produced powerful explosions and ash plumes 8 km high.
Earlier historic eruptions from Alaid volcano
1933-1934 eruptions: the first observed flank eruption
1894: summit eruption
1860: eruption from the summit crater
1854: strong explosive eruption from the summit crater
1793: explosive eruption from the summit crater

See also: Sentinel hub | Landsat 8 | NASA FIRMS