Altar volcano
Updated: Jul 6, 2022 09:38 GMT -
Refresh
caldera 5321 m / 17,457 ft
Ecuador, -1.67°S / -78.42°W
Current status: (probably) extinct (0 out of 5)
El Altar is an extinct stratovolcano on the western side of Sangay National Park in Ecuador, 170 km south of Quito. Altar was last active about 2 million years ago and contains a caldera open to the west, which contains a lake.
A large rockslide caused fatalities in 2000. On 13 October 2000, a large block of andesitic breccia with a volumne of ca. 1.5 million m3 rock broke off from near the summit and slid 900 m down into a caldera lake. This impact caused a 50 m high tsunami which overflowed the caldera and produced a lahar, that killed 13 people
Typical eruption style:
explosive
Altar volcano eruptions:
ca. 2 million years ago
landslide-caused tsunami in 2000
uncertain reports from 1460 AD
Lastest nearby earthquakes:
No recent earthquakes
Background
Inca legends report that the top of Altar collapsed after seven years of activity in about 1460, but the caldera is considered to be much older than this by geologists. 9 major peaks over 5,000 metres (16,400 ft) form a horseshoe-shaped ridge about 3 km across, surrounding a central basin that contains a crater lake at about 4,200 m (13,800 ft), known as Laguna Collanes or Laguna Amarilla.
Sources:
- wikipedia
- Hall, Minard L. (1977). "El Volcanismo en el Ecuador". Sección Nacional del Ecuador. p. 120 pp
- Smithsonian / GVP additonal reports for Altar
Altar Photos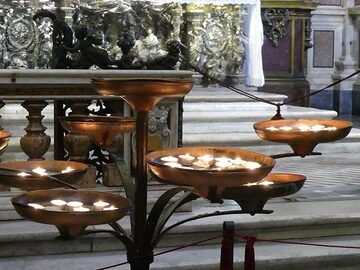 Burning candles at one of the altars in the cathedral of Naples. (Photo: Ingrid Smet)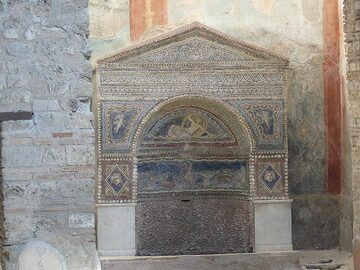 Despite the destructive power of the eruption, some valuable artifacts were preserved in the larger villas of Pompeii such as this intricate mosaic altar. (Photo: Ingrid ...

See also: Sentinel hub | Landsat 8 | NASA FIRMS