Alu volcano
Updated: Jul 6, 2022 03:33 GMT -
Refresh
fissure vents (shield volcano) 429 m (1,407 ft)
Ethiopia, 13.82°N / 40.55°E
Current status: normal or dormant (1 out of 5)
A series of eruptive fissures near Dalaffilla volcano at the northern end of the Erta Ale range (Danakil desert, Ethiopia), many of which have erupted voluminous basaltic lava flows, as recently as in Nov. 2008.
Typical eruption style:
effusive
Alu volcano eruptions:
2008 (starting Nov 4)
Lastest nearby earthquakes:
No recent earthquakes
Background
Alu volcano along with Dalaffilla volcano form a twin volcano at the northen end of the Erta Ale range and they are often referred to as Alu-Dalaffilla volcano.
While Dalaffilla is a small but steep stratovolcano of mainly silic lava domes, Alu is characterized by a series of fissures that have erupted basaltic lava flows.
The summit of Alu volcano, immediately NW of conical Dalaffilla volcano, is an uplifted ellipsoidal volcanic horst, elongated in a NNW-SSE direction.
Strong fumarolic activity is located on the numerous NNW-SSE parallel faults, some of which have uplifts of 100 m. Fissure vents west of the horst have fed silicic lava flows, and other fissures to the south have produced voluminous youthful basaltic lava flows that extend north as far as Lake Bakili.
The recent eruption starting Nov 4, 2008, from a fissure between Alu and Dalaffilla volcanoes has modified the local topography by covering a large area with lava flows.
Alu Photos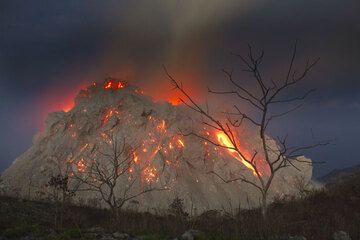 Naked trees silhouetted against the active lava dome of Paluweh volcano (Flores Sea, Indonesia) on 1 Dec 2012. (Photo: Tom Pfeiffer)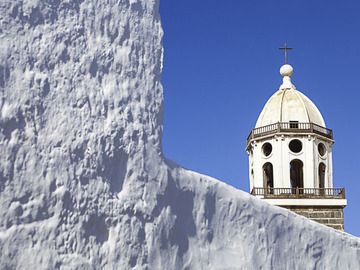 The church Guadalupe in Teguise (Photo: Tobias Schorr)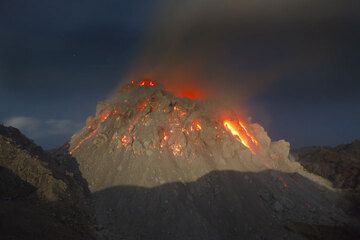 The new growing lava dome of Paluweh volcano, Flores Sea, Indonesia (Photo: Tom Pfeiffer)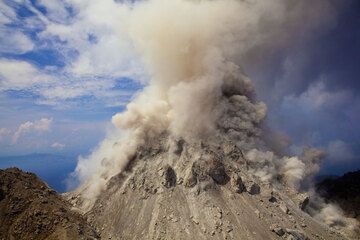 Rockfalls from Paluweh's active lava dome during the day, generating ash clouds. (Photo: Tom Pfeiffer)

See also: Sentinel hub | Landsat 8 | NASA FIRMS