Tat Ali
Shield volcano 700+ m / 2,297 ft
Ethiopia, 13.28°N / 41.07°E
Aktueller Status: normal / ruhend (1 von 5)
Typische Tätigkeit:
unspecified
Ausbrüche:
unknown, no recent eruptions
Letzte Erdbeben in der Nähe:
Keine jüngeren Beben
Beschreibung
Tat Ali volcano is the dominant feature of the Tat Ali Range, east of Lake Afrera. The low Holocene shield volcano has an elongated summit depression and has produced a variety of rock types, ranging from basalts to pantellerites. NNW-SSE-trending fissures cutting the volcano have fed basaltic lava flows; those NE of Lake Afrera are of prehistorical age. Late-stage volcanism produced youthful basaltic lava flows on the floor of the summit depression, which is also the site of prominent fumarolic activity.
---
Smithsonian / GVP volcano information
Tat Ali Fotos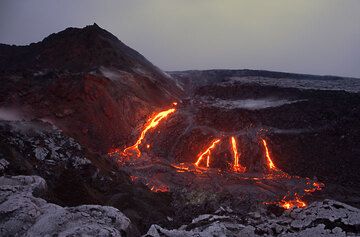 Perlenschnurartig angeordnete effusive Bocchen, aus denen Lavaströme in den Kollapskrater Puka Nui am Pu'u 'O'o Krater des Kilauea Vulkans auf Hawaii strömen. hawaii_e757...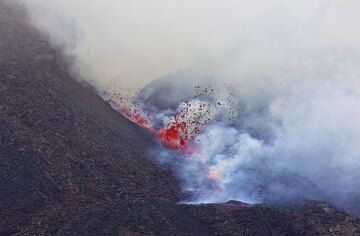 Ein kleiner Brunnen flüssige Lava erscheint am unteren Ende des Risses Fütterung der Lavastrom. (Photo: Tom Pfeiffer)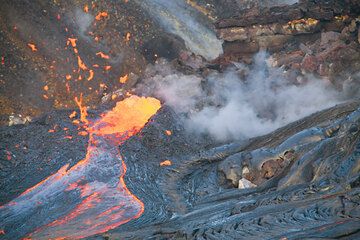 Lava-spuckende Bocca, die einen Lavastrom auf dem Kilaue Vulkan auf Hawaii ausfließen lässt. (Photo: Tom Pfeiffer)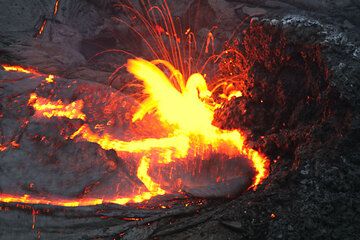 Auswurf von Lava am vent unter einem Lavasee im Pu'u 'O'o Krater am Kilauea Vulkan, Hawaii (Photo: Tom Pfeiffer)

Siehe auch: Sentinel hub | Landsat 8 | NASA FIRMS