Tat Ali volcano
Updated: Jul 5, 2022 00:56 GMT -
Refresh
Shield volcano 700+ m / 2,297 ft
Ethiopia, 13.28°N / 41.07°E
Current status: normal or dormant (1 out of 5)
Typical eruption style:
unspecified
Tat Ali volcano eruptions:
unknown, no recent eruptions
Lastest nearby earthquakes:
No recent earthquakes
Background
Tat Ali volcano is the dominant feature of the Tat Ali Range, east of Lake Afrera. The low Holocene shield volcano has an elongated summit depression and has produced a variety of rock types, ranging from basalts to pantellerites. NNW-SSE-trending fissures cutting the volcano have fed basaltic lava flows; those NE of Lake Afrera are of prehistorical age. Late-stage volcanism produced youthful basaltic lava flows on the floor of the summit depression, which is also the site of prominent fumarolic activity.
---
Smithsonian / GVP volcano information
Tat Ali Photos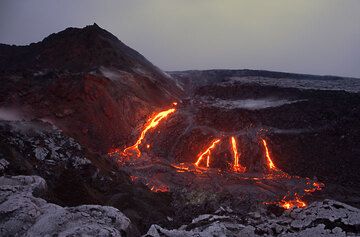 Several effusive vents arranged in a row on top of a dyke, feeding lava flows into Puka Nui collapse pit at Pu'u 'O'o crater, Kilauea volcano. hawaii_e7579.jpg (Photo: To...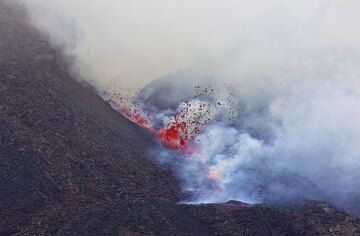 A small fountain of liquid lava appears at the lower end of the fissure feeding the lava flow. (Photo: Tom Pfeiffer)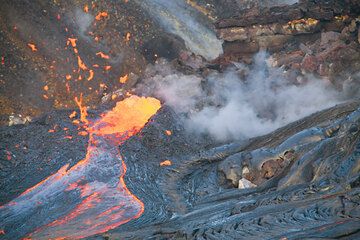 Spattering from a vent feeding a rapid flow of lava; Kilauea volcano, Hawaii. hawaii_e7328 (Photo: Tom Pfeiffer)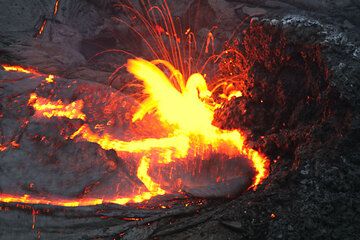 Lava spattering from a vent feeding a lava lake in Kilauea's Pu'u 'O'o crater hawaii_e7170.jpg (Photo: Tom Pfeiffer)

See also: Sentinel hub | Landsat 8 | NASA FIRMS