Elbrus volcano
stratovolcano 5633 m / 18,481 ft
Russland, 43.33°N / 42.45°E
Current status: normal or dormant (1 out of 5)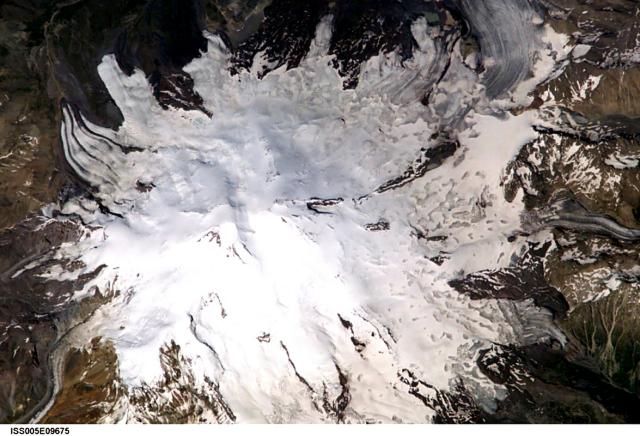 Glaciers radiate from Mount Elbrus, the highest peak of the Caucasus Mountains of SW Russia. Snow-filled craters are visible in this image at both the 5595-m-high eastern summit and the 5633-m-high western summit. Image courtesy of Earth Sciences and Image Analysis Laboratory, NASA Johnson Space Center, 2002
Elbrus volcano is a large stratovolcano in the western Caucasus of SW Russia. It is the highest mountain of Europe (although some argue that it belongs already to Asia) and the highest volcano of the northern hemisphere.
Elbrus has not erupted for about 2000 years, but is considered an active volcano. There is weak solfataric activity near the summit and hot springs are present on the volcano's flanks.
Typical eruption style
: effusive
Elbrus volcano eruptions
: 50 AD ± 50 years
| | | |
| --- | --- | --- |
| Time | Mag. / Depth | Distance/Location |
Background
Elbrus volcano has 2 summits: the 5595-m-high eastern summit has a 250-m-wide, well-preserved crater and is separated by a low saddle from the 5633-m-high western summit.
The surface of the 18 km diameter volcano cover 260 sq km. The longest mapped lava flows have traveled 24 km down the NNE flank. The most recent lava flows were erupted about 2000 years ago (tephronchronology dating).
Elbrus is a prominent destination for climbers.



See also: Sentinel hub | Landsat 8