Hekla volcano
Updated: Jun 1, 2023 06:31 GMT
-
stratovolcano 1491 m (4,892 ft)
Iceland, 63.99°N / -19.67°W
Current status: normal or dormant (1 out of 5)
Last update: 15 Dec 2021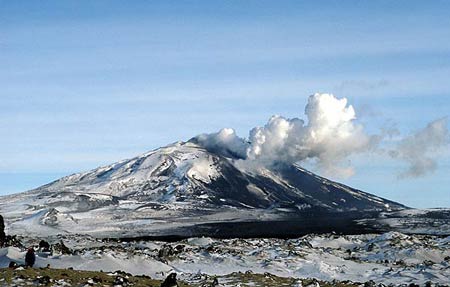 Hekla in eruption in March 2000 with the large black lava flow in the foreground from that eruption.
1491-m-high Hekla is one of Iceland's most prominent, most known and active volcanoes. It has frequent eruptions that start with an explosive onset producing eruption plumes, then lava fountains and culminate in large lava flows. Most of the volcano's flanks are covered by extensive lava flows from historical eruptions, dating back to 1104 AD.
Typical eruption style:
Explosive and effusive.
Hekla volcano eruptions:
1104 (large, Plinian eruption), 1158, 1206, 1222, 1300, 1341, 1389, 1440(?), 1510, 1554, 1597, 1636-37, 1693, 1725, 1766-68, 1845-46, 1878, 1913, 1947-48, 1970, 1980, 1981, 1991, 2000
Latest nearby earthquakes
Time
Mag. / Depth
Distance/Location
Friday, May 26, 2023 GMT (1 quake)
May 26, 2023 3:10 am (GMT +0)

(May 26, 2023 03:10 GMT)




1.2


5.8 km
15 km (9.3 mi)
Iceland: 7.9 Km SW of Búrfellsstöð
Friday, May 19, 2023 GMT (1 quake)
May 19, 2023 4:03 am (GMT +0)

(May 19, 2023 04:03 GMT)




1.5


0.6 km
1.7 km (1.1 mi)
Iceland: 1.8 Km W of Hekla
Background
Hekla is located near the southern end of the eastern rift zone. It sits on a rift-transform junction, and has produced basaltic andesites, in contrast to the tholeiitic basalts typical of Icelandic rift zone volcanoes. Hekla's tephras are generally rich in flourine, which is very hazardous to grazing animals.
The elongated shape of the volcano is caused by a 5.5-km-long fissure, Heklugjá, that cuts across the volcano and is often active along its full length during major eruptions. Repeated such eruptions, oblique to most rifting structures in the eastern volcanic zone, have created Hekla's elongated ENE-WSW profile.
Frequent large explosive eruptions during historical times have deposited tephra throughout Iceland and provide important time markers that can be used to date eruptions from other volcanoes in Iceland.
Hekla Photos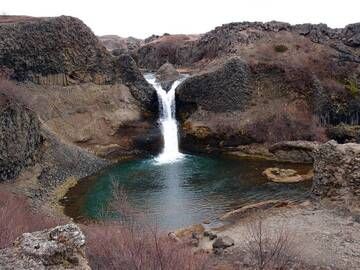 Gjárfoss waterfall in the basaltic gorge of Gjáin near Hekla volcano, Iceland (Photo: Janka)
The contours of Mount Hekla materialising in the hazy evening light behind a volcanic ridge. Near Hrauneyjalón, southern boundary of the Icelandic Highlands - 13 Septmeb...




See also: Sentinel hub | Landsat 8 | NASA FIRMS