Karapinar volcano
Typical eruption style
: explosive
Karapinar volcano eruptions
: unknown, but probably in the last 3000-6000 years ago
| | | | |
| --- | --- | --- | --- |
| Time | Mag. / Depth | Distance | Location |
The Karapinar volcanic field is one of the most interesting areas in south-western Turkey.
Background:
In the area of Karapinar there are about five cinder cones, two lava flows, and several explosion craters and one maar. It is not too far from the huge Karacadag stratovolcano complex. The 300-m-high Meke Dagi is one of the largest cinder cones in Central Anatolia. The explosion craters and maars are located along a SW-NE line consistent with the elongation of Karacadag volcano. The maars evolved from hyaloclastite tuff rings to maars to cinder cones, reflecting varying lake water levels during the eruption. The last eruptions probably took place in the last 3000-6000 years ago.
See also:
Sentinel hub
|
Landsat 8
More on VolcanoDiscovery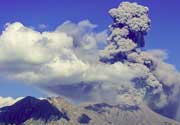 Volcanic crisis at Sakurajima - updates
: A strong earthquake swarm and increased inflation were detected in August 2015 and triggered authorities to raise the alert level, as volcanologists think that a larger eruption could follow. News and updates on the events can be found on this page.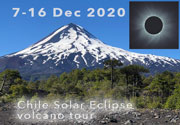 Solar Eclipse & volcano tour
: A total solar eclipse will occur on 14 Dec 2020 and pass over southern Chile and Argentina. Chile's most active volcano Villarrica is located exactly on the center line where the eclipse will be best to observe.
We offer you the unique chance to combine the eclipse with a tour to one the world's most beautiful volcanic areas - the Lake District in Chile.
The term for all fine-grained volcanic products fragmented during explosive eruptions.