Kizimen volcano
Updated: Feb 5, 2023 01:50 GMT
-
stratovolcano 2376 m / 7,795 ft
Kamchatka, 55.13°N / 160.32°E
Current status: normal or dormant (1 out of 5)
Last update: 9 Dec 2021

Kizimen volcano is an isolated, conical stratovolcano located in the Shchapina graben on the SE margin of the Central Kamchatkan Valley. After almost a century of quiet, it started to become restless in 2009 and erupt in late 2010. The new ongoing eruption has been building a new lava dome on the summit, and producing violent pyroclastic flows and ash plumes several kilometer high. The area around the volcano is unpopulated and the eruptions have therefore not caused damage.
Typical eruption style:
Explosive
Kizimen volcano eruptions:
2010-13, 1927-28, 850 (?), 700±50, 350±75, 1010 BC (?), 4050 BC (?), 4450 BC (?), 580050 BC , 6400±50 BC, 8050 BC (?)
Latest nearby earthquakes
No recent earthquakes
Background
Kizimen's shape is similar to Mount St. Helens before the massive 1980 eruption. The northwestern side of Kizimen volcano is cut by NE-SW-trending normal faults, which form a series of cliffs, and could be the site of a future flank collapse.
The summit of Kizimen is formed by overlapping lava domes, from which blocky lava flows descend the flanks of the volcano.
Kizimen is at the W end of a volcanic chain north of Kronotsky volcano. Kizimen itself was built during four eruptive cycles beginning about 12,000 years ago and lasting 2000-3500 years each, separated by large explosive eruptions about 12000, 8300 and 3000 years ago. In between those major explosive eruptions, lava domes were formed in at least 3 phases.
Another large explosive eruption occurred about 1100 years ago. It produced a lateral blast and created a 1.0 x 0.7 km wide crater breached to the NE, inside which a small lava dome has grown. Before the eruption starting in 2010, the only known historic activity took place in 1927-28.
Kizimen Photos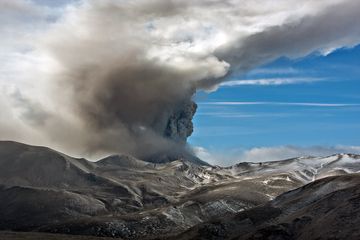 Ash plume from Kizimen volcano, Kamchatka (March 2011) (Photo: Sergey Krasnoshchokov)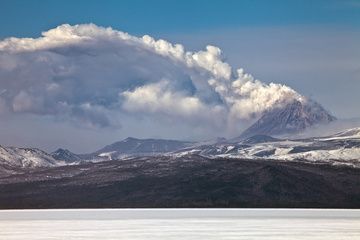 Emission of ashes of Kizimen volcano (Apr 2011) (Photo: Sergey Krasnoshchokov)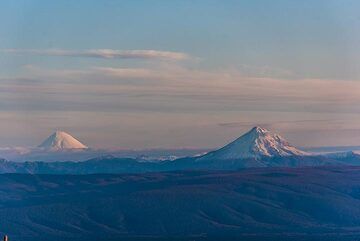 Kronotzky and Kizimen volcanoes in the evening. (Photo: Tom Pfeiffer)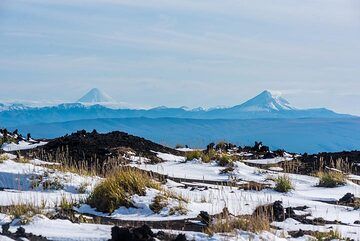 To the SE, the perfect cone of Kronotzky volcano and still steaming Kizimen volcano are visible in the distance. (Photo: Tom Pfeiffer)




See also: Sentinel hub | Landsat 8 | NASA FIRMS