Malinao volcano
stratovolcano 1548 m / 5,079 ft
Luzon Island, Philippines, 13.42°N / 123.61°E
Current status: (probably) extinct (0 out of 5)
Malinao volcano (also known as Buhi or Takit) is a forested stratovolcano north of Mayon volcano and 3 km west of Malinao town, in southern Luzon, Philippines.
The volcano contains a large summit crater breached to the east.
Malinao was active from about 500,000 to 60,000 years ago, and is probably now extinct. Reports of an eruption in 1628 are probably false and relate to a large debris avalanche and eruption at Iriga volcano.
On the eastern flank, it contains Luzon's largest solfatara field and hot springs with deposits of silicious sinter.
Typical eruption style
: explosive
Malinao volcano eruptions
: 1628 (?), ca. 30,000 years ago
No recent earthquakes
| | | |
| --- | --- | --- |
| Time | Mag. / Depth | Distance/Location |
Background
Malinao volcano is surrounded by deposits of debris avalanches that form a ringplain. Volcanic deposits of Malinao, particularly well exposed on the northeastern flank, suggest that it had been a similar (mainly explosive) activity as nearby and highly active Mayon volcano, including airfall deposits and pyroclastic flows.
Malinao's lavas are mainly highly porphyritic andesite.
Malinao Photos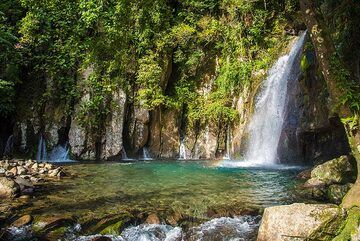 24 Feb: the enchanting Vera Falls at the foot of neighboring Mt Malinao Volcano NE of Mayon are a pleasant day-trip from Legazpi (about 1.5 hrs drive). (Photo: Tom Pfeiff...
1980 geothermal explosion
A small, probably hydrothermal explosion occurred at a hot water pool at the Naglabong geothermal area near Malinao volcano in 1980. The explosion ejected hot rocks and mud to up to 350 m distance from the vent, and one person was injured.
1970 seismic unrest - reports of tremors and rumblings
On 27 April 1970, Father Hennessey reported by telegraph cable that there were earth tremors "ranging from Intensity 1 to 5" and "deep rumblings" could be heard.

See also: Sentinel hub | Landsat 8 | NASA FIRMS