Managlase volcano
volcanic field 1342 m / 4,403 ft
New Guinea, Papua New Guinea, -9.08°S / 148.33°E
Current status
:
normal or dormant
(1 out of 5) |
Reports
Managlase volcano books
Typical eruption style
: explosive
Managlase volcano eruptions
: few centuries ago
| | | | |
| --- | --- | --- | --- |
| Time | Mag. / Depth | Distance | Location |
Managlase volcano is a volcanic field also known as the Managlase Plateau. It is a triangular-shaped area between 460 and 1070 m altitude 35 km SSE of Popondetta in Papua New Guinea, south of the Hydrographers Range and SW of the Dyke Ackland Bay.
The field contains 30 small volcanic centers of late-Pleistocene to Holocene age, including a row of tall cinder cones rising to form the summit at Mount Manna at 1128 m.
The last eruption of Managlase Volcano is unknown, but local stories from villages in the area preserve the memory of activity from the Kururui cinder cone and a nearby explosion crater.
Background:
The fault-bounded plateau contains trachybasaltic lava cones and flows, scoria mounds, cinder cones, and explosion vents of the Uoivi Volcanics. On its eastern side it is capped by rhyodacitic ash cones, lava domes, and ashflow deposits of the Manna Volcanics.
Source: Smithsonian / GVP volcano information
See also:
Sentinel hub
|
Landsat 8
More on VolcanoDiscovery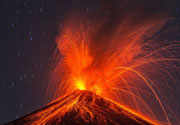 Fuego volcano photos
: One of Central America's most active volcanoes, Fuego in Guatemala is in near-permanent explosive eruption with intermittent phases of increasing activity that generate lava fountains, lava flows and pyroclastic flows.
Active volcanoes in China
: Did you know that there are at least 15 active volcanoes in China? The last eruption was from the Kunlun volcano in 1951.