Meru volcano
Updated: Feb 5, 2023 00:01 GMT
-
Stratovolcano 4565 m / 14,977 ft
Tanzania, -3.25°S / 36.75°E
Current status: normal or dormant (1 out of 5)
Last update: 9 Mar 2022 (no eruption - large forest fire)

Typical eruption style:
unspecified
Meru volcano eruptions:
2015, 1910
Latest nearby earthquakes
No recent earthquakes
Background
Meru volcano, Africa's fourth highest mountain, is dwarfed by neighboring Kilimanjaro volcano, but is an impressive peak in its own right. Seen from the west, Meru has a conical profile, but it contains a 5-km-wide breached caldera on the east side that formed about 7800 years ago when the summit of the volcano collapsed. Associated massive debris avalanches and lahars traveled as far as the western flank of Kilimanjaro volcano. Parasitic cones and lava domes are located on all sides; a maar field is present on the lower north flank. The historically active Ash Cone forms a prominent symmetrical cone inside the breached caldera. A second vent between it and the caldera headwall has fed lava flows that cover much of the caldera floor.
---
Smithsonian / GVP volcano information
Meru Photos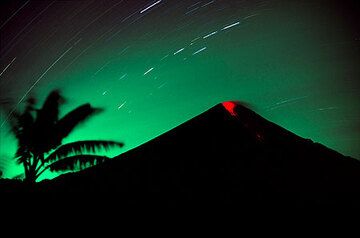 Erupting Semeru volcano at night (March 2004) - a small explosion expels incandescent bombs that roll down its southern flank. (Photo: Tom Pfeiffer)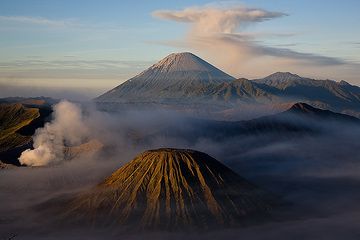 Volcanic trio: Batok cinder cone (foreground), smoking Bromo, and majestic Semeru with an umbrella cloud.
This view of East Java's Tengger caldera (Indonesia) is o...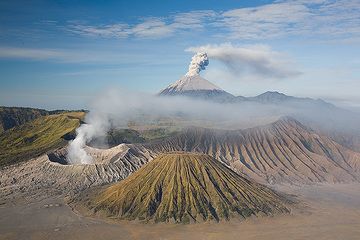 Eruption at Semeru volcano with smoking Bromo and the eroded cone of Batok volcanoes in the foreground. (Photo: Tom Pfeiffer)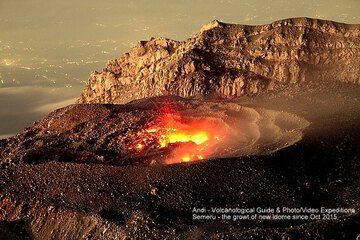 The growing lava dome of Semeru volcano in early November 2015. (Photo: Andi / VolcanoDiscovery Indonesia)




See also: Sentinel hub | Landsat 8 | NASA FIRMS