Osorno volcano
Updated: Dec 9, 2022 18:34 GMT
-
stratovolcano 2652 m / 8,701 ft
Southern Chile and Argentina (South America), -41.1°S / -72.49°W
Current status: normal or dormant (1 out of 5)
Last update: 22 Dec 2021 (seismic unrest)

Osorno volcano is a symmetrical, glacier-covered stratovolcano in southern Chile, rising above Todos los Santos and Llanquihué lakes.
Osorno is one of the most active volcanoes of Chile. Historical eruptions have often produced produced lava flows. Many eruptions have occurred from both summit and flank vents and fissures, the latter mostly on the west and SW sides. Lava flows from its eruptions have reached Todos los Santos and Llanquihué lakes.
While its historic activity was dominantly effusive, many explosive eruptions which generated pyroclastic flows and surges have been identified to have occurred during the past 14,000 years.
Typical eruption style:
effusive
Osorno volcano eruptions:
1869, 1855, 1851, 1837, 1834-35, 1790-91, 1765, 1719, 1644(?), 1640(?), 1575(?), 1310
Latest nearby earthquakes
No recent earthquakes
Background
Osorno volcano almost exclusively consists of basaltic to basaltic-andesitic lavas, with the exception of 2 small dacitic lava domes on the NW and SSE flanks.
Geology of Osorno volcano
The present-day cone of Osorno was constructed partly above a roughly 250,000-year-old eroded stratovolcano, La Picada, which has a mostly buried 6-km-wide caldera. La Picada underlies Osorno on the NE and has postglacial maars and scoria cones.
Source: Smithsonian / GVP volcano information
Osorno Photos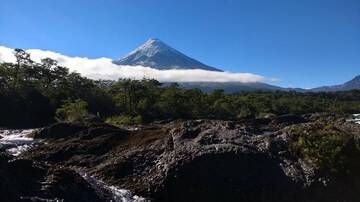 Osorno stratovolcano, Chile (Photo: C.Utreras-DGEO)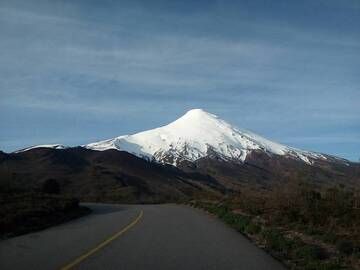 Osorno stratovolcano, Chile (Photo: C.Utreras-DGEO)




See also: Sentinel hub | Landsat 8 | NASA FIRMS