Sunset Crater volcano
Updated: Dec 3, 2022 11:20 GMT
-
cinder cone 2447 m / 8,028 ft
Arizona (Canada and USA (mainland)), 35.37°N / -111.5°W
Current status: normal or dormant (1 out of 5)
Last update: 6 Jun 2015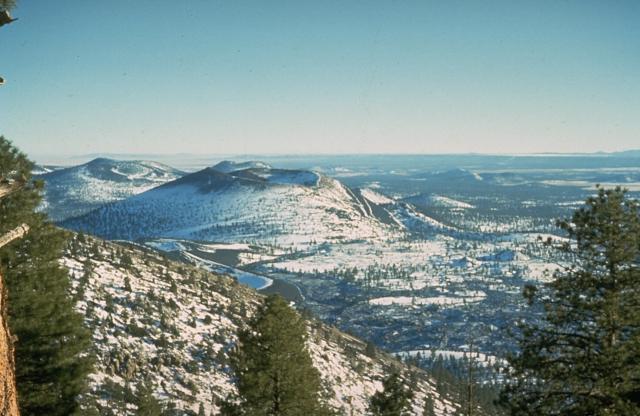 Snow-mantled Sunset Crater (left-center), seen from O'Leary Peak to the NW, is the youngest volcanic feature of the San Francisco Mountain volcanic field, which covers a vast area of northern Arizona between Flagstaff and the Grand Canyon. The Sunset Crater eruption began about 1100 AD from a chain of cinder cones and vents trending NW-SE, the largest of which is Sunset Crater. Three lava flows were erupted, the longest of which traveled 11 km to the NE. Photo by Ed Wolfe, 1973 (U.S. Geological Survey)
Sunset Crater in northern Arizona is one of the youngest volcanoes in the USA. It is named for its brilliantly colored scoria deposits on the cone and only one of more than 550 vents of the vast San Francisco volcanic field.
The last eruption took place sometime between about 1080 and 1150 AD.

In the late 1920s, a Hollywood filmmaker planned to use Sunset Crater as movie set and use dynamite to simulate an eruption, but local resistance stopped these plans.
Typical eruption style:
strombolian
Sunset Crater volcano eruptions:
A.D. 1064 or 1065 (dendrochronology) OR around 1100 AD
Latest nearby earthquakes
No recent earthquakes
Background
The eruptions forming Sunset Crater cinder cone were initially considered from tree-ring dating to have begun between the growing seasons of 1064-1065 AD; however, more recent paleomagnetic evidence places the onset of the eruption sometime between about 1080 and 1150 AD.
The largest vent of the eruption, Sunset Crater itself, was the source of the Bonito and Kana-a lava flows that extended about 2.5 km NW and 9.6 km NE. Additional vents along a 10-km-long fissure extending SE produced small spatter ramparts and a 6.4-km-long lava flow to the east.
The Sunset Crater eruption produced a blanket of ash and lapilli covering an area of more than 2100 sq km and forced the abandonment of settlements of the indigenous Sinagua Indians.
---
Sources: GVP Sunset Crater volcano information
Arizona Handbook
Sunset Crater Photos
| | |
| --- | --- |
| At sunset, the NE crater greets us with a beautiful explosion. (Photo: Tom Pfeiffer) | Lava lake after sunset; the glow of the lava illuminates the crater walls. Observers are visible as tiny silhouettes on the opposite crater rim. (Photo: Tom Pfeiffer) |
| The south crater which contains the active lava lake inside the caldera of Erta Ale volcano at sunset (Photo: Tom Pfeiffer) | Anak Krakatau-View from the crater rim at sunset (Photo: jorge) |



See also: Sentinel hub | Landsat 8 | NASA FIRMS