Three Sisters volcano
Updated: Dec 9, 2022 14:19 GMT
-
Complex volcano, cinder cones, shields, fissure vents 3159 m / 10364 ft
Central Oregon, USA, 44.13°N / -121.77°W
Current status: normal or dormant (1 out of 5)
Last update: 3 Feb 2022 (Smithsonian / USGS Weekly Volcanic Activity Report)

The Three Sisters volcano group in Central Oregon consists of several vents and volcanic edifices including the stratocones North Sister, as well as the younger Middle Sister and South Sister, which forms its summit.
Volcanic activity occurred frequently from various vents during the past 10,000 years, last about 1,600 years ago. An eruption reported from 1853 sometimes reported in literature has been discredited.
Typical eruption style:
Three Sisters volcano eruptions:
none in historical times
1853 (discredited), radiocarbon-dated: 440 A.D. ± 150 years, 40 A.D.± 200 years, approx. 50 BC, 350 BC, 800 BC, 7350 BC ± 2700 years
Latest nearby earthquakes
No recent earthquakes
Background
The north-south-trending Three Sisters volcano group dominates the landscape of the Central Oregon Cascades. All Three Sisters stratovolcanoes ceased activity during the late Pleistocene, but basaltic-to-rhyolitic flank vents erupted during the Holocene, producing both blocky lava flows north of North Sister and rhyolitic lava domes and flows south of South Sister volcano.
Glaciers have deeply eroded the Pleistocene andesitic-dacitic North Sister stratovolcano, exposing the volcano's central plug. Construction of the main edifice ceased at about 55,000 yrs ago, but north-flank vents produced blocky lava flows in the McKenzie Pass area as recently as about 1600 years ago. Middle Sister volcano is located only 2 km to the SW and was active largely contemporaneously with South Sister until about 14,000 years ago.
South Sister is the highest of the Three Sisters. It was constructed beginning about 50,000 years ago and was capped by a symmetrical summit cinder cone formed about 22,000 years ago. The late Pleistocene or early Holocene Cayuse Crater on the SW flank of Broken Top volcano and other flank vents such as Le Conte Crater on the SW flank of South Sister mark mafic vents that have erupted at considerable distances from South Sister itself, and a chain of dike-fed rhyolitic lava domes and flows at Rock Mesa and Devils Chain south of South Sister erupted about 2000 years ago.
This volcano is located within the Three Sisters, a UNESCO Biosphere Reserve property.
Three Sisters Photos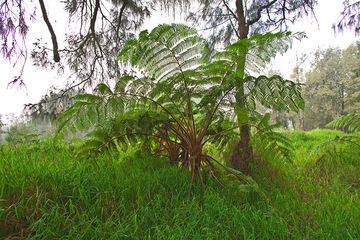 A fern tree at Arjuna volcano area (Photo: Tobias Schorr)




See also: Sentinel hub | Landsat 8 | NASA FIRMS