Arenal volcano
Stratovolcano 1657 m / 5,436 ft
Costa Rica, 10.46°N / -84.7°W
Current status: normal or dormant (1 out of 5)
Last update: 29 Feb 2020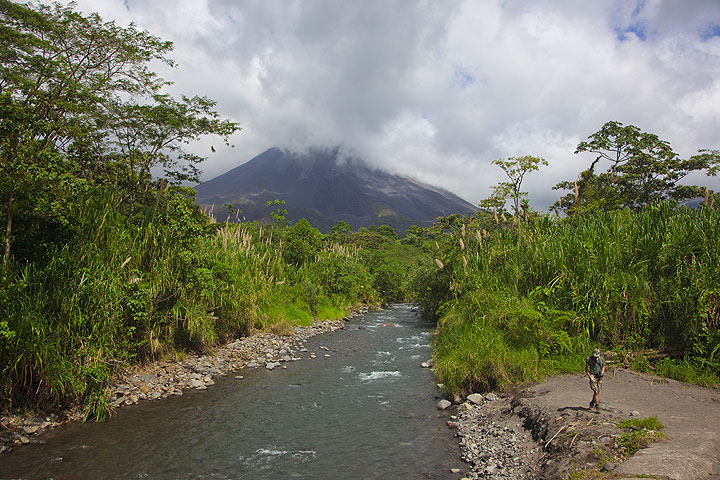 Arenal volcano seen from Rio Caliente
Arenal, a major tourist attraction in Costa Rica, is one of the most active volcanoes of Central America. Since a major eruption in 1968, it has been in near-continuous activity building a lava dome and displaying mild explosive activity from the summit crater.
Typical eruption style
: Explosive. Near continuous strombolian activity, occasional major explosive events and lava flows.
Arenal volcano eruptions
: 1968-2011, 1968 (major explosion), 1922, 1915(?), 1750, 1530, around 1350 (large, sub-Plinian eruption)
Latest nearby earthquakes
Time
Mag. / Depth
Distance/Location
Mon, 21 Jun 2021 (GMT) (2 earthquakes)
2021-06-21 08:41:41

(21 Jun 2021 14:41:41 GMT)




2.6


59 km
25 km (16 mi)
33 km northeast of Puntarenas, Costa Rica
21 de junio del 2021 8:41 am

(21 Jun 2021 14:41:00 GMT)




3.4


74 km
25 km (16 mi)
35 km northeast of Puntarenas, Costa Rica
Thu, 17 Jun 2021 (GMT) (1 earthquake)
17 de junio del 2021 8:07 am

(17 Jun 2021 14:07:00 GMT)




2.9


6 km
9.8 km (6.1 mi)
San Carlos, Provincia de Alajuela, 36 km east of Canas, Costa Rica
Mon, 14 Jun 2021 (GMT) (2 earthquakes)
2021-06-14 09:30:49

(14 Jun 2021 15:30:49 GMT)




2.8


95 km
8.9 km (5.5 mi)
27 km west of Ciudad Quesada, San Carlos, Provincia de Alajuela, Costa Rica
14 de junio del 2021 9:30 am

(14 Jun 2021 15:30:00 GMT)




3.8


104 km
12 km (7.5 mi)
San Ramon, 23 km northwest of Ciudad Quesada, Costa Rica
Background
Volcán Arenal, a beautiful, 1657-m high conical andesitic stratovolcano near Lake Arena, is the youngest and one of the most active stratovolcano in Costa Rica. It is famous for a large explosive eruption in 1968 that killed several people and threw incandescent bombs to 5 km distance from the vent.
Arenal lies along a volcanic chain where activity has migrated to the NW over the past 2 million years, from the late-Pleistocene Los Perdidos lava domes through the Pleistocene-to-Holocene Chato volcano, which contains a 500-m-wide, lake-filled summit crater. The earliest known eruptions of Arenal took place about 7000 years ago, and it was active simulataneously with Cerro Chato volcano until the activity of Chato ended about 3500 years ago.
Growth of Arenal has been characterized by periodic major explosive eruptions at several-hundred-year intervals and periods of lava effusion that armor the cone. Arenal's most recent eruptive period began with a major explosive eruption in 1968. Continuous explosive activity accompanied by slow lava effusion and the occasional emission of pyroclastic flows has occurred since then from vents at the summit and on the upper western flank.
Source: GVP, Smithsonian Institution



See also: Sentinel hub | Landsat 8