Batu Tara volcano
Updated: Feb 4, 2023 21:53 GMT
-
Stratovolcano 748 m / 2,454 ft
Sunda Islands, Indonesia, -7.79°S / 123.58°E
Current status: normal or dormant (1 out of 5)
Last update: 27 May 2022 (Smithsonian / USGS Weekly Volcanic Activity Report)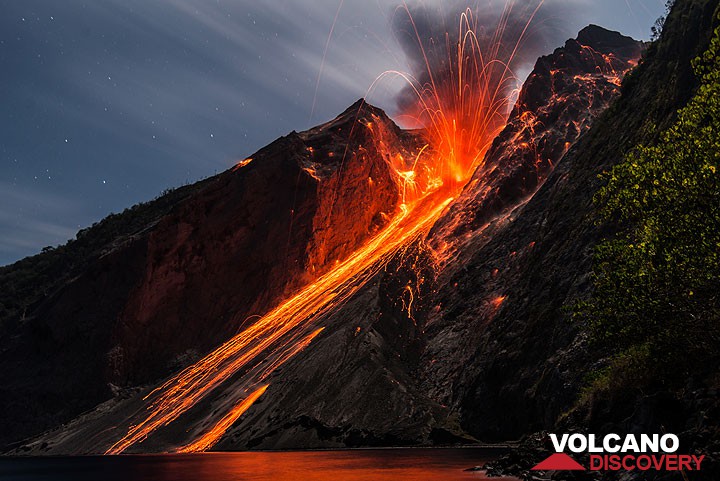 Strombolian activity from Batu Tara volcano - the "Stromboli" of the Flores Sea
Batu Tara is a small island volcano 50 km north of Lembata Island in the Flores Sea. It is frequently active, producing spectacular strombolian explosions with abundant incandescent bombs and ash plumes rising to hundreds or few kilometers elevation.
Typical eruption style:
Explosive
Batu Tara volcano eruptions:
2007-2011 (Oct), 2006, 1852
Latest nearby earthquakes
No recent earthquakes
Background
Batu Tara island is the top of a larger stratovolcano, its base reaching 3000 meters below sea level. It has a large central summit crater of 900 x 700 meters diameter open to the east.
The scar on its eastern side is a flank collapse feature similar to the Sciara del Fuoco of Italy's Stromboli volcano. Vegetation covers the flanks of Batu Tara to within 50 m of the 748-m-high summit.

Batu Tara lies on young and thin oceanic crust north of the main volcanic Sunda-Banda Arc at the boundary of the collision of the north moving Australian with the Sunda tectonic plate. Geochemically, it is noted its potassic leucite-bearing basanitic and tephritic rocks.

Eruptions from Batu Tara
Until 2006, the only confirmed historical eruption from Batu Tara were during 1847-52, which produced explosions with volcanic bombs and a lava flow.
On July 1st, 2006, Batu Tara was observed erupting again. An ash plume rose to 5000 ft (ca 2 km). Since then, it has been erupting frequently. Most eruptions were strombolian or vulcanian type, with explosions producing ash plumes of 1-2 km, similar to Anak Krakatau's activity.
In March 2007, a phase of stronger eruptions promted the evacuation of 15000 people from Lembata Island nearby.
Batu Tara Photos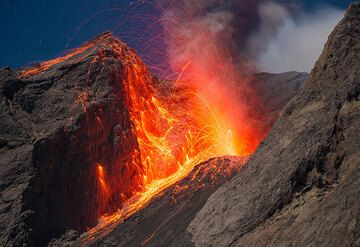 A stronger eruption sends many bombs against and over the vertical eastern crater wall. (Photo: Tom Pfeiffer)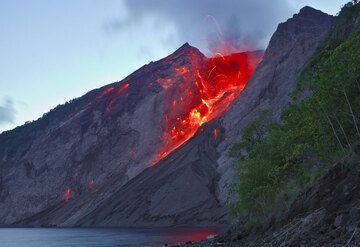 A strong strombolian eruption from Batu Tara in the evening of 25 Nov 2012. (Photo: Tom Pfeiffer)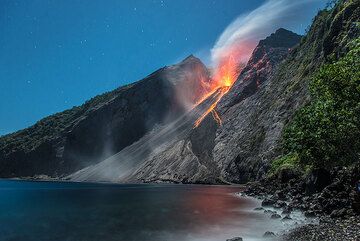 Large explosion with many blocks thrown to the west (right) and outside the crater. (Photo: Tom Pfeiffer)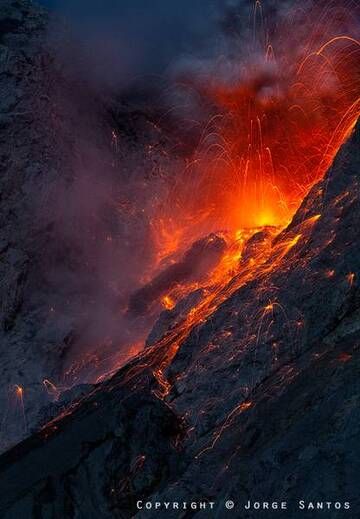 Strombolian activity from the crater of Batu Tara volcano, Indonesia (Photo: jorge)




See also: Sentinel hub | Landsat 8 | NASA FIRMS