Bezymianny volcano
Updated: Jul 5, 2022 17:38 GMT -
Refresh
stratovolcano 2882 m / 9,455 ft
Central Kamchatka Depression (Kamchatka), 55.98°N / 160.59°E
Current status: erupting (4 out of 5)
Last update: 2 Jul 2022 (Volcanic Ash Advisory)

Bezymianny ("unnamed") was considered extinct until it erupted violently in 1955-56, after a slumber of probably 1000 years. It is one of the most active volcanoes in Kamchatka. The eruption followed a massive flank failure (similar to Mt. St. Helens eruption in 1980) which removed a 0.5 sq km sector of the volcano.
Typical eruption style:
Explosive
Bezymianny volcano eruptions:
2017-ongoing, 2016, 2012, 2010, 2009, 2008, 2007, 2000-05, 1998, 1997, 1996-97, 1994-95, 1993-94, 1992, 1991, 1990, 1989, 1986-88, 1986, 1985, 1984, 1981-83, 1980, 1980, 1979, 1979, 1978, 1977, 1976, 1971-74, 1965-70, 1964, 1964, 1963, 1962, 1961, 1961, 1961, 1960, 1959, 1958-59, 1958, 1958, 1957, 1955-57
Lastest nearby earthquakes:
No recent earthquakes
Background
The present-day Bezymianny volcano, lying next to its massive sisters Kamen and Kliuchevskoi, is a young and relatively small volcano only about 4700 years old. It was formed on top of an older volcano built between about 11,000-7000 years ago. 3 periods of intensified activity have been recognized in the geologic history during the past 3000 years. The present-day activity started with the eruption in 1955-56 after a 1000 year interval of repose. At the beginning of the eruption, the summit and a large sector of its flank failed and resulted in a catastrophic landslide followed by a powerful blast. The event left a large horseshoe-shaped crater. Since then, the volcano has been one of Kamchatka's most active. A new lava dome has been growing inside the 1956 crater, frequently producing explosive activity and pyroclastic flows. As of 2011, the lava dome has already largely filled the 1956 crater.
Bezymianny Photos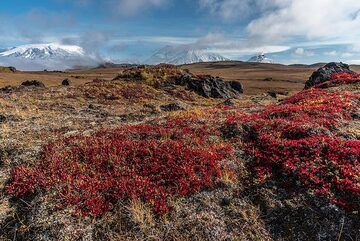 Panorama of 4 volcanoes (l-r): Ushkovsky, Klyuchevskoy, Kamen and Bezymianny seen from the plateau north of Tolbachik. (Photo: Tom Pfeiffer)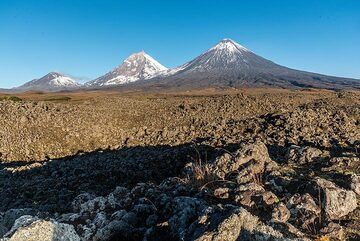 View of Bezymianny (l), Kamen (m), and Kluychevskoy (r) volcanoes from the east. (Photo: Tom Pfeiffer)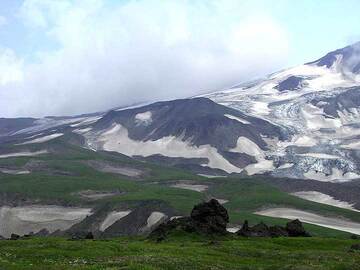 On the way to Bezymianny volcano, Kamchatka (Photo: Anastasia)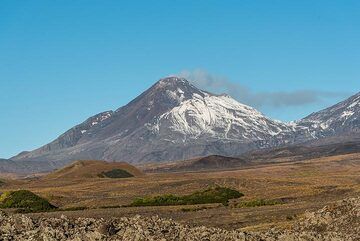 Steaming Bezymianny volcano (Photo: Tom Pfeiffer)
Eruptions of Bezymianny since 1955
Lava dome growth, large explosions with ash columns up to 10-15 km high, and pyroclastic flows characterize the activity during this (ongoing) period. ...
more
Bezymianny volcano tours:

Kamchatka - Land of Colors
(volcano expedition to Kamchatka)

See also: Sentinel hub | Landsat 8 | NASA FIRMS