Fantale volcano
Updated: Jul 5, 2022 11:48 GMT -
Refresh
stratovolcano 2007 m / 6,585 ft
Ethiopia, 8.98°N / 39.93°E
Current status: normal or dormant (1 out of 5)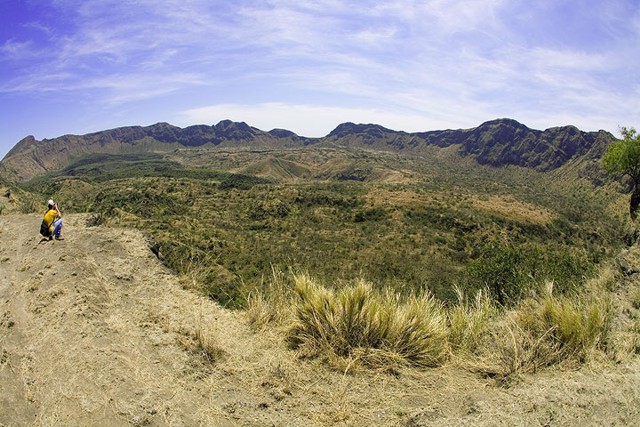 Fantale volcano's caldera
Fantale (also spelled Fantalle, Fentale, or Fantala) is a large stratovolcano in the Ethiopian Rift Valley west of Lake Awash. It contains a large spectacular summit caldera.
Fantale's historic eruptions produced lava flows that descended to the east side into the valley and lake Awash. An eruption during the 13th century destroyed a town and church located south of the volcano. In 1820, a 4 km long fissure eruption occured on the east flank and sent basaltic lava flows both into the caldera and outside, reaching the bottom of the Rift valley.
Typical eruption style:
Explosive and effusive.
Fantale volcano eruptions:
1820 (?), 1250 (+-50y)
Lastest nearby earthquakes:
No recent earthquakes
Background
Fantale is known for welded ash flows thought to correspond to violent eruptions that were followed by the formation of its 2.5 x 4.5 km summit caldera surrounded by steep walls up to 500 m high. The volcano was built on a WNW-ESE-trending orientation perpendicular to the axis of Ethiopian Rift and flank vents exist on the same line.
Fantale Photos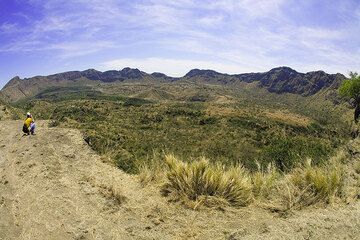 Fantale is a large stratovolcano on the floor of the Ethiopian Rift Valley, truncated by a 6km wide caldera, which shows numerous deposits of young lava eruptions. The la...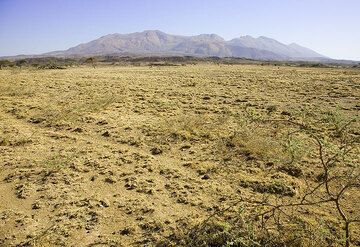 The truncated cone of Fantale volcano. (Photo: Tom Pfeiffer)
Lake Awash at the bottom of the RIft Valley mirrors Fantale volcano. (Photo: Tom Pfeiffer)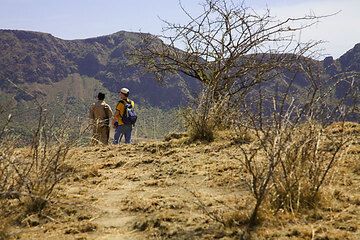 1700 m a.s.l. Finally,- Franz is the first to arrive on the rim and get a vew of the large caldera of Fantale volcano. (Photo: Tom Pfeiffer)

See also: Sentinel hub | Landsat 8 | NASA FIRMS