Volcanoes of Ethiopia and Eritrea
Expeditions aux volcans actifs de l'Ethiopie:
Désert de Danakil (Éthiopie)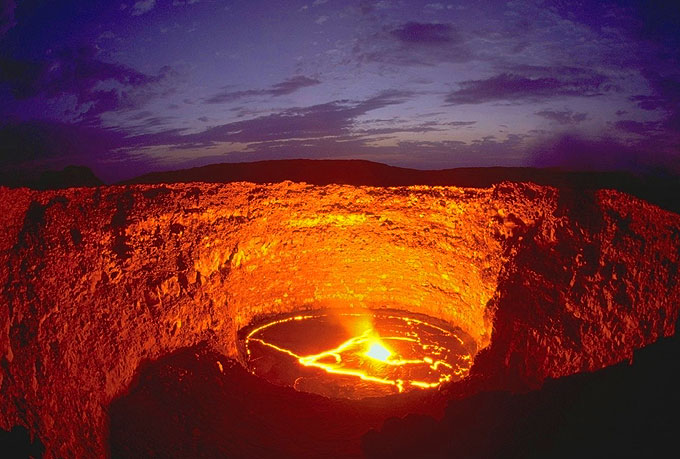 Expédition au volcan Erta Ale et les champs hydrothermaux de Dallol (désert de Danakil, Éthiopie)
14 jours / 13 nuits - Modérée
$ 4530 €£¥
13-26 nov. 2021
Découvrez l'une des régions géologiquement les plus actifs de la planète, et avec des paysages les plus grandioses:
le désert du Danakil
,
un volcan actif avec un lac de lave bouillant
, les couleurs surréels, le sel, les geysers, les sources et les fumerolles à
Dallol
, le grand
lac de sel
qui est un
paysage lunaire
incomparable, ainsi que l'exploitation et le commerce du sel qui c´est passé avec des
caravanes de chameaux
depuis les temps bibliques.
Sur cette expédition, nous traversons la région Afar du Sud au Nord, en visitant le volcan actif de Erta Ale où nous restons
3 jours et nuits sur le sommet
, ainsi que 2 jours complets à
Dallol et le Grande Lac du Sel
. À la ville de mineurs d'Ahmed Ela, près du lac Assale, nous regardons le
séculaire rituel de couper le sel
et de former des blocs de sel qui sont transportés par des caravanes interminables chargés avec ce «l'or blanc précieux». Au fin de cet voyage nous explorons le site du patrimoine mondial de l'UNESCO des
églises rocées de Lalibela
.
Nous avons
beaucoup d´expérience avec cette expédition
que nous organisons depuis le début de 2007. Cela se montre dans une
préparation excellente
, un personnel hautement compétent, professionnel et amical, des rencontres du peuple local merveilleux et
la nourriture délicieuse
préparé par notre cuisinier - des choses qui feront bien compenser les conditions parfois spartiates.
plus d'infos
Danakil desert + Semien Mountains (Ethiopia)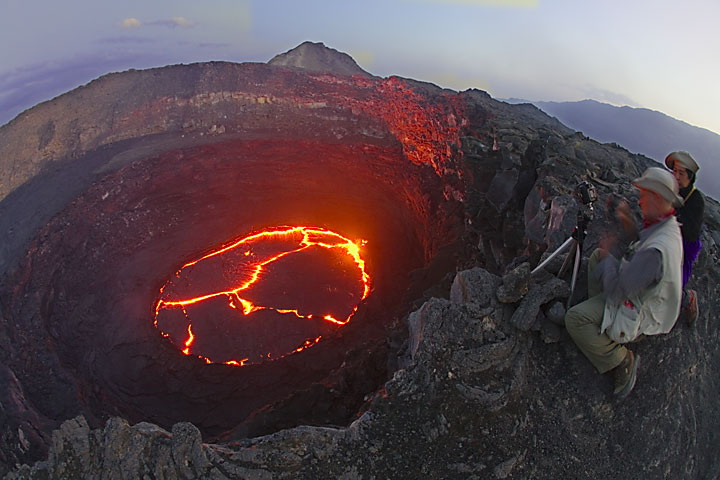 15 days expedition and trekking to Erta Ale volcano, Dallol, Lalibela and Semien mountains (Ethiopia)
- Modérée
$ 4100 €£¥
Départs sur commande possibles
A tour which combines 2 different natural phenomena:
Danakil Depression
(the lowest place - 125 m below the sea level) and
Semien Mountains
(«the roof of Africa" with the highest elevation of 4620m, Mount Ras Dashen). Both of them are the parts of
Great Rift Valley
with the same geological process: the result of Plate Tectonic process which dates back to 30 million years.
During the trip we spend
4 days in Danakil Depression
(which is the result of the triple plate margins in the Northeastern part of Ethiopia and yet is still active) visiting
active volcano Erta Ale
(with the possibility to see some activity inside the crater),
Dallol volcano
with its fascinating fumaroles, amazing rock formations, crystal and mineral deposits. At the
miners'town of Ahmed Ela
near Lake Assale we'll watch the
centuries-old ritual of salt cutting
, the shaping of salt blocks and the endless
caravans
arriving and leaving loaded with the precious "white gold".
In the
Semien Mountains
(which is the result of the destruction of shield volcanoes into numerous peaks and now the UNESCO world heritage site) we also spend 4 days enjoying the most
spectacular mountain scenery
, climbing the second high mountain
Mount Bahwit (4,430m)
, meeting animals like
the Gelada, the Ethiopian wolf, the Walia ibex, the giant Lammergeir)
.
On the way we visit ancient towns such as
Wukro, Axum, Gondar and of cause Lalibela
with its famous rock hewn churches.
plus d'infos
Danakil desert (Ethiopia)
8-day expedition to Erta Ale, Dallol, salt lakes (Danakil depression, Ethiopia) and Wukro
6 - 8 days - Modérée
$ 2650 €£¥
Départs sur commande possibles
10-17 oct. 2021
26 déc. 21 - 2 janv. 2022
8 days expedition, starting and ending in Mekele, going straight to the heart of the Danakil desert to explore the Erta Ale shield volcano and Dallol hydrothermal fields! After climbing to the volcanoes summit in the morning you meet a beautiful sunrise at the rim of the crater. Spending 2 days allo you to study the volcanoes craters and the new fissure eruption site on the volcano's flank. After descending the volcano you travel onward to the Danakil Depression, where you spend about 2 days exploring the colorful hydrothermal deposits of Dallol, acid lakes, salt formations and camel caravans. At the end you will stay in the city of Wukro and visit ancient churches with beautiful paintings.
plus d'infos