Late volcano
Updated: Nov 28, 2023 19:48 GMT
-
Stratovolcano 540 m / 1,772 ft
Tonga, Tonga Islands, -18.81°S / -174.65°W
Current status: normal or dormant (1 out of 5)
Last update: 7 Dec 2022 (Smithsonian / USGS Weekly Volcanic Activity Report)

Typical eruption style:
unspecified
Late volcano eruptions:
1854
Latest nearby earthquakes
No recent earthquakes
Background
The small, 6-km-wide circular island of Late, lying along the Tofua volcanic arc about 55 km WSW of the island of Vavau, contains a 400-m-wide, 150-m-deep summit crater with an ephemeral lake. The largely submerged basaltic-andesite to andesitic volcano rises 1500 m from the sea floor, with its conical summit reaching 540 m above sea level. Cinder cones are found north of the summit crater, west and north of a semicircular plateau 100-150 m below the summit, and on the NW coast. A graben-like structure on the NE flank contains two large pit craters, the lower of which is partially filled by a saltwater lake. Only two eruptions have occurred in historical time, both from NE-flank craters, which produced explosive activity and possible lava flows in 1790 and 1854.
---
Smithsonian / GVP volcano information
Late Photos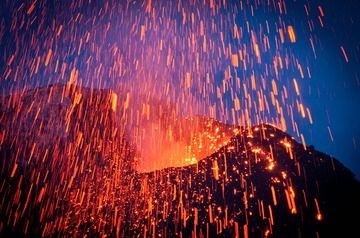 Fireworks at Stromboli volcano, Italy. The photo was taken in spring 2009 and shows an explosion from Stromboli's NE crater in the evening twilight. In the first half of ...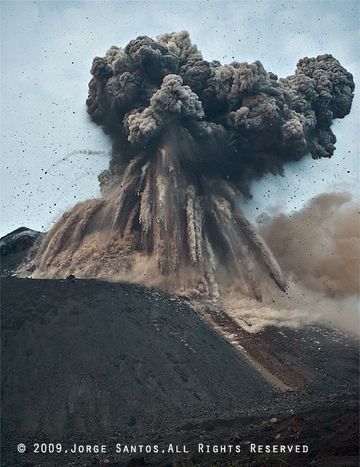 A fraction of a second later, the largest blocks are falling onto the slope of the cone, leaving dense trails of ash behind in the air, while the ash cloud expands, parts...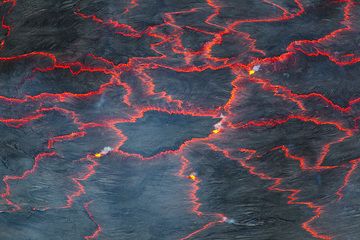 The center of the lava lake often contains one or several plates, from which cracks seem to radiate. (Photo: Tom Pfeiffer)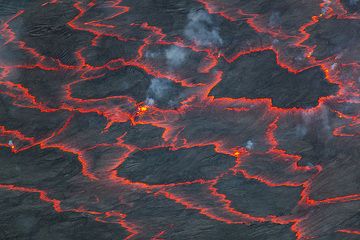 The shapes of the plates on the lake are in constant evolution, a fantastic spectacle to watch for hours! (Photo: Tom Pfeiffer)




See also: Sentinel hub | Landsat 8 | NASA FIRMS