Machin volcano
Updated: Jul 6, 2022 16:57 GMT -
Refresh
stratovolcano 2650+ m / 8,694 ft
Colombia, 4.48°N / -75.39°W
Current status: normal or dormant (1 out of 5)
Last update: 13 Dec 2021 (seismic unrest)

Cerro Machín volcano is a small stratovolcano about 20 km WNW of the city of Ibagué, Colombia. Although there are no historic eruptions, Machin is considered one of the most dangerous volcanoes in Colombia, because it has produced devastating explosive eruptions in its past and will likely to continue so. Pyroclastic flow deposits have been found up to 40 km and mud flow deposits (lahars) up to 109 km distance from the volcano along the Coello and Magdalena rivers.
The last known activity took place about 800 years ago.
Typical eruption style:
explosive
Machin volcano eruptions:
1180 ± 150, 2100 BC ± 200, 2240 BC ± 300, 3800 BC ± 150
Lastest nearby earthquakes:
Time
Mag. / Depth
Distance/Location
Monday, July 4, 2022 GMT (2 quakes)
Jul 4, 2022 15:31 GMT


2.2


5 km
137 km (85 mi)
Colombia
Jul 4, 2022 09:42 GMT


2.0


16 km
13 km (8.1 mi)
Colombia
Saturday, July 2, 2022 GMT (1 quake)
Jul 2, 2022 02:46 GMT


1.3


37 km
71 km (44 mi)
Colombia
Sunday, June 26, 2022 GMT (1 quake)
Jun 25, 2022 10:45 pm (GMT -5)

(Jun 26, 2022 03:45 GMT)




1.6


35 km
63 km (39 mi)
Colombia
Friday, June 24, 2022 GMT (1 quake)
Jun 24, 2022 11:04 am (GMT -5)

(Jun 24, 2022 16:04 GMT)




2.3


21 km
78 km (48 mi)
Colombia
Background
The small Machín stratovolcano forms the southern end of the Ruiz-Tolima massif. It contains a 3-km-wide caldera breached to the south. There are 3 forested dacitic lava domes inside the caldera.
Machin Photos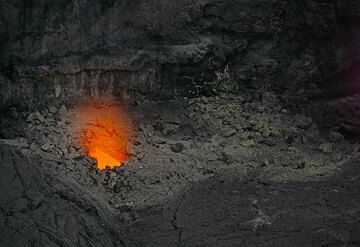 A weak glow from shallow magma is visible from one of the holes in the floor of the collapse pit. Moving magma is audible with sloshing sounds similar to a washing machin...
Old machines that were used to process basalt. Ettringer Ley quarry. (Photo: Tobias Schorr)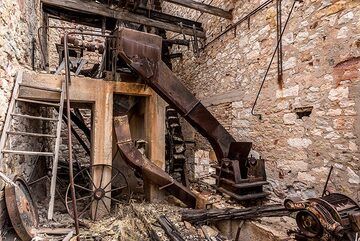 Sieving (?) machinery and vertical elevator in the lower middle section of the processing plant, probably used during an intermediate stage of mine operation. (Photo: Tom...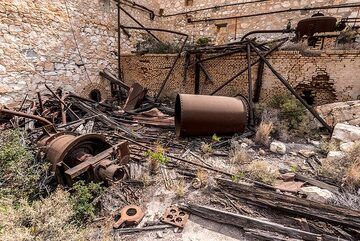 Rusting machinery in the main boiler room. (Photo: Tom Pfeiffer)
2011 unrest
The number of earthquakes increased at Machin volcano on 31 December 2010. Over the next 4 days, 367 volcano-tectonic earthquakes were recorded south and southwest of the main lava dome in the summit caldera.
The largest event occurred at 5:22 pm on 1 January 2011, with a magnitude 2.3 at a depth of 3.3 km. The earthquake was felt by residents in vicinity of the volcano and in the town of Cajamarca (Tolima).
(USGS / GVP weekly reports)

2008 seismic unrest
An earthquake swarm occurred at Machín volcano on 9 November 2008. The increase in earthquakes was accompanied by an increase in fumarolic activity and there was damage to some buildings (USGS / GVP weekly reports).
2004 seismic unrest
In April 2004, a swarm of earthquakes occurred at Machín volcano. More than 60 earthquakes occurred daily, in comparison to the normal number of 1-10 quakes. (USGS/GVP weekly updates)

See also: Sentinel hub | Landsat 8 | NASA FIRMS