Soufriere Hills volcano
Updated: Jul 3, 2022 11:41 GMT -
Refresh
Stratovolcano, lava dome 915 m / 3002 ft (changing!)
Montserrat, West Indies (UK), 16.72°N / -62.18°W
Current status: normal or dormant (1 out of 5)
Last update: 6 May 2022 (small rockfall followed heavy rainfalls)

Soufrière Hills volcano is a complex stratovolcano that forms the northern half of the small Island of Montserrat in the British Lesser Antilles. After 350 years of quiet, it came back into life in 1995 and started to build a new lava dome. The eruption alternated between less or more intense phases including rapid dome growth with associated powerful vulcanian explosions and large pyroclastic flows from dome collapse.
The eruption, in particular the effects of pyroclastic flows and lahars caused by heavy rains have destroyed a large part of the island, including the capital Plymouth, and the population has been relocated to the northern part of the island and has been fighting, with the help of the UK government, to maintain life on the island.
One of the world's most modern volcano observatories, the MVO, has been installed on the island and while largely unknown prior to 1995, Soufrière Hills volcano now counts as one of the best monitored active volcanoes world-wide.
Typical eruption style:
Explosive. Construction of lava domes.
Soufriere Hills volcano eruptions:
2005-2013, 2004, 1995-2003
1550 ± 50 years, 1480 ± 50 years, 1180 (?), 2460 BC ± 70 years, 4050 BC (?), 8050 BC ± 2000 years
Lastest nearby earthquakes:
No recent earthquakes
Soufriere Hills Photos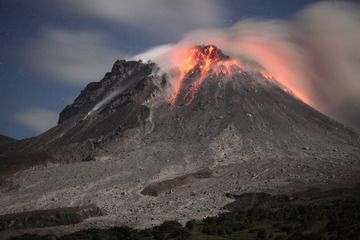 Lava Dome of Soufrière Hills volcano (Montserrat) at Night, Jan. 28 2010 (Photo: Richard Roscoe)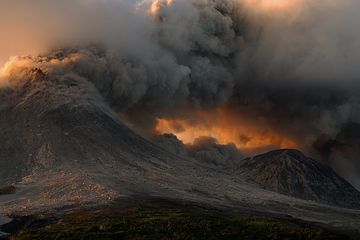 Ash venting from Montserrat's active lava dome Soufrière Hills volcano (Photo: marcofulle)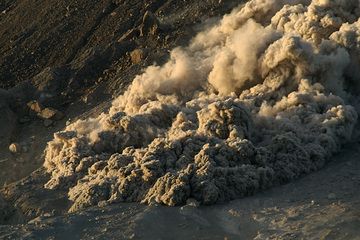 Front of a pyroclastic flow from Montserrat's Soufrière Hills volcano (Photo: marcofulle)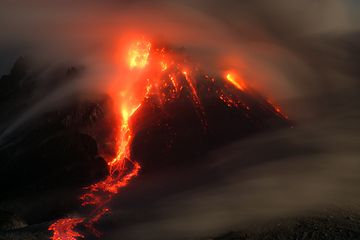 Incandescent pyroclastic flow from Montserrat's Soufrière Hills volcano at night (Photo: marcofulle)

See also: Sentinel hub | Landsat 8 | NASA FIRMS