Mount Rainier volcano
Updated: Jul 3, 2022 05:33 GMT -
Refresh
stratovolcano 4329 m / 14,409 ft
Washington, USA, 46.85°N / -121.76°W
Current status: normal or dormant (1 out of 5)
Last update: 10 Mar 2022 (M 2.4 shallow earthquake beneath the north rim of East Crater on 13 Sep)

Mount Rainier, the highest peak in the Cascade Range, is located 87 km SE of Seattle and forms a majestic backdrop to the landscape of the region. The volcano is covered by 26 main glaciers, and melting of glacial ice by a future eruption causing lahars are a significant hazard for the region.
Reported 19th-century eruptions can not be verified by any deposits, but it is likely that some phreatic activity took place in 1894.
Previous eruptions have produced large debris avalanches and lahars, some of which have traveled all the way to the Pacific Ocean and reached Puget Sound.
Typical eruption style:
Explosive
Mount Rainier volcano eruptions:
1894, 1882(?), 1879(?), 1870(?), 1858(?), 1854(?), 1843(?), 1825(?), 300 BC, 520±200 BC, 3400 BC, 3600 BC, 3650 BC, 4400 BC, 4900 BC, 5300 BC, 5400 BC, 6800 BC
Lastest nearby earthquakes:
Time
Mag. / Depth
Distance/Location
Wednesday, June 22, 2022 GMT (1 quake)
Jun 22, 2022 1:36 pm (GMT -7)

(Jun 22, 2022 20:36 GMT)




1.3


0.3 km
37 km (23 mi)
Explosion - 2 Km ENE of Eatonville, Washington
Monday, June 20, 2022 GMT (1 quake)
Jun 20, 2022 4:00 pm (GMT -7)

(Jun 20, 2022 23:00 GMT)




1.5


0.4 km
41 km (25 mi)
3 Km WSW of Kapowsin, Washington
Background
Mount Rainier is a typical andesitic stratovolcano. It has produced large lahars and debris avalanches. Its present summit was built within a large crater breached to the northeast formed by collapse of the volcano during a major explosive eruption about 5600 years ago, that produced the widespread Osceola Mudflow.
Mt Rainier's eruptive history has been studied in detail. It includes about a dozen major eruptions during the past 2600 years, the largest of which occurred about 2200 years ago.
The present-day summit cone is cut by two overlapping craters. Extensive hydrothermal activity is present in the summit craters. It has produced melting of glacial ice created a complex system of steam caves found in the summit icecap.
Mount Rainier Photos

Mount Rainier, Washington, near the "Sunrise" section of Mount Rainier National Park
6 October, 2009 (Photo: volcanomike)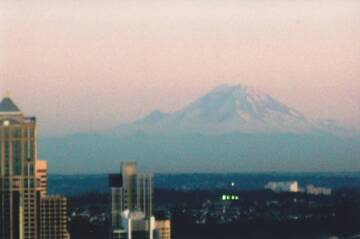 Mount Rainier, Washington, at sunset from downtown Seattle (top of the Space Needle).
5 October, 2009 (Photo: volcanomike)

See also: Sentinel hub | Landsat 8 | NASA FIRMS