Spurr volcano
Last update:
22 Jan 2013
Typical eruption style
: explosive
Spurr volcano eruptions
: 1992 (Crater Peak), 1965 (?, Spurr), 1953 (Crater Peak)
tephrochronology and radiocarbon dated: 1650 ± 50 years, 3250 BC ?, 4050 BC ?, 5110 BC ± 100 years, 6050 BC
Time
Mag. / Depth
Distance
Location
Sat, 24 Oct 2020 (UTC)
24 Oct 12:10 am (GMT -8)

(24 Oct 08:10:45 UTC)

M 2.2 / 88.5 km
23 km
43 Km WNW of Tyonek, Alaska, USA
Sat, 17 Oct 2020 (UTC)
17 Oct 1:26 pm (GMT -8)

(17 Oct 21:26:01 UTC)

M 0.9 / 75.3 km
19 km
52 Km NW of Beluga, Alaska, USA
Fri, 16 Oct 2020 (UTC)
16 Oct 7:33 am (GMT -8)

(16 Oct 15:33:41 UTC)

M 0.1 / 9.5 km
1 km
65 Km WNW of Tyonek, Alaska, USA
Tue, 13 Oct 2020 (UTC)
13 Oct 9:25 am (GMT -8)

(13 Oct 17:25:15 UTC)

M 0.2 / 109.5 km
29 km
66 Km W of Tyonek, Alaska, USA
Sun, 11 Oct 2020 (UTC)
10 Oct 11:57 pm (GMT -8)

(11 Oct 07:57:18 UTC)

M 2.1
8 km
66 Km WNW of Beluga, Alaska, USA
View all recent quakes
Mt Spurr volcano is the highest volcano in the Aleutian Volcanic Arc. the glacier-covered stratovolcano is located 130 km west of Anchorage and NE of Chakachamna Lake.
Mt Spurr had a violent sub-plinian eruption in 1992 and a large eruption in 1953, both ranking at VEI 4 and produced by Crater Peak, a small flank vent on the south side. No other historic eruptions have been documented.
Background:
The 3374-m-high summit of Mount Spurr, the highest volcano of the Aleutain arc, is a large lava dome constructed at the center of a roughly 5-km-wide horseshoe-shaped caldera that is open to the south.
The caldera was formed by a late-Pleistocene or early Holocene debris avalanche and associated pyroclastic flows that destroyed an ancestral Spurr volcano. The debris avalanche traveled more than 25 km to the SE, and the resulting deposit contains blocks as large as 100 m in diameter. Several ice-carved post-caldera cones or lava domes lie in the center of the caldera. The youngest vent, 2309-m-high Crater Peak, formed at the breached southern end of the caldera and has been the source of about 40 identified Holocene tephra layers. Spurr's two historical eruptions, from Crater Peak in 1953 and 1992, deposited ash on the city of Anchorage.
---
from: Smithsonian / GVP Mt Spurr volcano information
1992 eruption
A large, subplinian eruption occurred in 1992 at Mt Spurr volcano. There were 3 main explosions, on 27 June, 18 August and 16-17 September. The eruption produced ash columns up to 13.5 km high and ashfall in several hundred km distance. ...
more
1953 eruption
A VEI 4 explosive eruption occurred at Crater Peak from 9-16 July 1953. It produced major ash fall (up to 6 mm in Anchorage) and lahars on the flanks and the base of the volcano.
See also:
Sentinel hub
|
Landsat 8
More on VolcanoDiscovery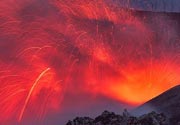 17 days volcano trekking
: This is one of our most exciting volcano tours! Halmahera, North Sulawesi and the Sangihe Islands are not only very scenic and interesting as well as nearly unspoiled by tourism, but also home to some of the country's most active (and often erupting) volcanoes, inclduing Dukono, Ibu, Lokon, Soputan and Karangetang.