Stromboli volcano
Updated: Aug 15, 2022 08:08 GMT -
Refresh
stratovolcano 926 m
Eolian Islands, Italy, 38.79°N / 15.21°E
Current status: erupting (4 out of 5)
Last update: 13 Aug 2022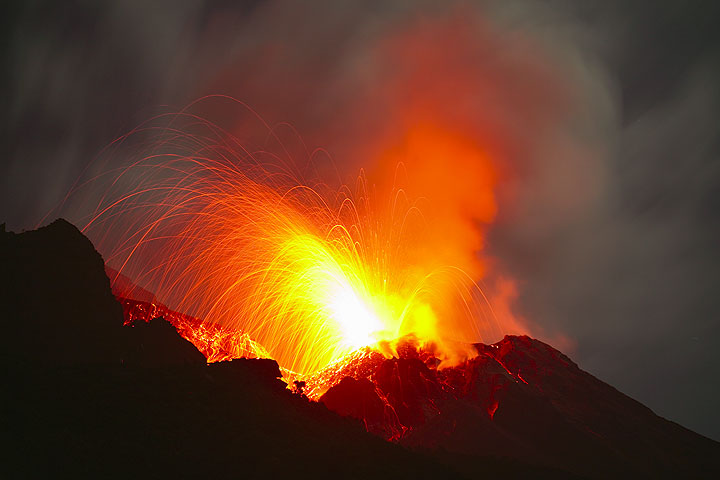 Powerful strombolian eruption from Stromboli volcano
Stromboli, a small island north of Sicily, is one of the most active volcanoes in the world and famous for its normally small, but regular explosions throwing out glowing lava from several vents inside its summit crater. This activity has been going on for at least 2000 years, as long as there is written memory of the activity, which Stromboli lended its name to, the so-called strombolian activity.
Typical eruption style:
Small explosive (strombolian) eruptions, typically every 20-30 mins. Intermittently, ca. every 2-20 years, minor effusive eruptions (lava flows); on average 2-5 times per year larger explosions.
Stromboli volcano eruptions:
Persistant (near-constant) activity since at least 2-3000 years. Most recent effusive (lava flow) eruptions from Dec. 2002-July 2003, March 2007, Aug-Oct 2014.
Paroxysm 3 July 2019
Lastest nearby earthquakes:
Time
Mag. / Depth
Distance/Location
Friday, August 12, 2022 GMT (1 quake)
Aug 12, 2022 6:39 pm (GMT +2)

(Aug 12, 2022 16:39 GMT)




3.0


179 km
25 km (16 mi)
Italy: Tirreno Meridionale (MARE)
Thursday, August 11, 2022 GMT (1 quake)
Aug 11, 2022 5:05 pm (GMT +2)

(Aug 11, 2022 15:05 GMT)




2.0


111 km
34 km (21 mi)
Italy: Isole Eolie (Messina)
Background
The N-most island of the Eolian Islands is famous for its spectacular incandescent nighttime explosions, that have long attracted visitors from all over the world and brought the volcano the nickname the "Lighthouse of the Mediterranean." Stromboli has even given its name to this kind of typical small explosions.
As long as there are historical records, Stromboli has been constantly active, which makes it almost unique among the volcanoes in the world. Most of its activity consists of brief and small bursts of glowing lava fragments to heights of 100-200 m above the craters. Occasionally, much stronger explosions or periods of more continuous activity can occur. The most violent eruptions during the past 100 years, in 1919, 1930 and on 5 April 2003, were large enough to take lives and or destroy property even at considerable range from the craters, for example inside the inhabited areas.
Apart from explosive activity, effusive eruptions with outflow of lava occur at irregular intervals ranging from a few years to decades. The most recent one began on 28 December 2002 and ended in July 2003.
Stromboli offers visitors a unique possibility to watch its eruptions. From the rim of an older crater one can stand only 150-250 m almost directly above the active craters,- a perfect viewing terrace. It should be mentioned that this is regarded as surprisingly safe as well: even though there is a small risk of being involved in a sudden, larger explosion (which happen infrequently a few times per year), and then being hit, injured or killed by an ejected bomb from the crater, the risk in terms of numbers is probably much smaller than many other risks in everyday situations. The number of accidents on Stromboli, when compared to the number of visitors at the crater over the years, is extremely small.
For hose who know and learn to love it, Stromboli is a magical place,- even not only for its volcano, but also for its unique charm, its beautiful beaches, the lush vegetation and its characteristic and unspoiled architecture.
Stromboli Photos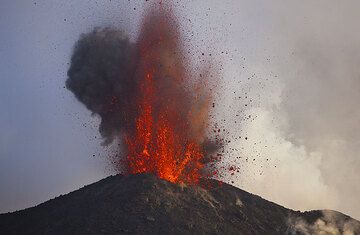 A powerful explosion of a large magma bubble shoots out of the NE crater. (Photo: Tom Pfeiffer)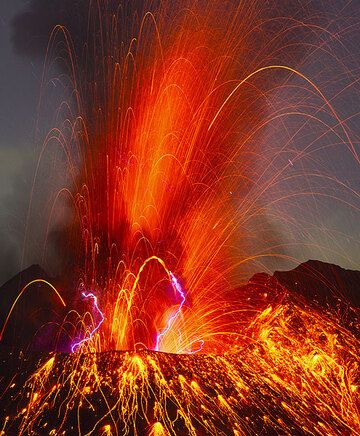 Powerful strombolian explosion from Sakurajima volcano, Japan, at 13:48 UTC on 27 Sep 2013 (22:48 local time) (Photo: Tom Pfeiffer)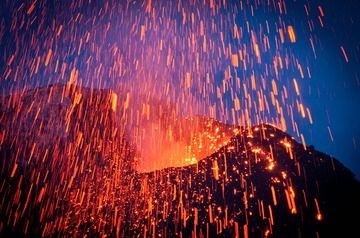 Fireworks at Stromboli volcano, Italy. The photo was taken in spring 2009 and shows an explosion from Stromboli's NE crater in the evening twilight. In the first half of ...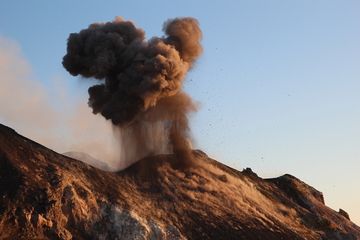 Ash plume from an explosion at Stromboli volcano (June 2012) (Photo: Marc Szlegat / www.vulkane.net)
Stromboli volcano tours:

Volcanoes of Italy - the Grand Tour
(15-days study & walking tour from Vesuvius to Etna)

From Stromboli to Etna
(9-day walking & study tour to Stromboli, Lipari, Vulcano and Etna with our expert volcanologist)

See also: Sentinel hub | Landsat 8 | NASA FIRMS