Avachinsky volcano
Updated: Jul 3, 2022 23:47 GMT -
Refresh
Stratovolcano 2741 m (8,993 ft)
Kamchatka (Russia), 53.26°N / 158.83°E
Current status: normal or dormant (1 out of 5)
Last update: 8 Dec 2021 (increased steaming, hot gas emissions)

Avachinsky towering above Petropavlovsk, Kamchatka's largest city, is one of Kamchatka's most active volcanoes. It typically erupts every few years to decades, often producing ash flows and lahars.
Typical eruption style:
Explosive
Avachinsky volcano eruptions:
1737 (produced tsunami), 1772, 1779, 1789, 1827, 1828, 1837, 1851, 1853, 1854, 1855, 1878, 1881, 1894-95, 1901, 1909, 1926-27, 1938, 1945, 1991, 2001, 2008 (ongoing)
Lastest nearby earthquakes:
No recent earthquakes
Background
Avachinsky began to form during the middle or late Pleistocene and is flanked to the SE by the parasitic volcano Kozelsky, which has a large crater breached to the NE. Avachinsky has a large horseshoe-shaped caldera, breached to the SW, that was formed when a major debris avalanche about 30,000-40,000 years ago buried an area of about 500 sq km to the south underlying the city of Petropavlovsk. Reconstruction of the volcano took place in two stages, the first of which began about 18,000 years before present (BP), and the second 7000 years BP. Most eruptive products have been explosive, with pyroclastic flows and hot lahars being directed primarily to the SW by the breached caldera, although relatively short lava flows have been emitted. The frequent historical eruptions of Avachinsky have been similar in style and magnitude to previous Holocene eruptions.
Source: Global Volcanism Program
Avachinsky Photos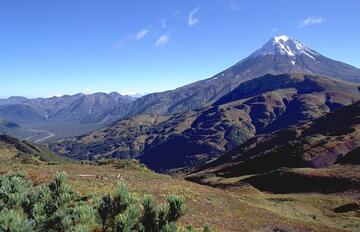 South side of Vilyuchinsky volcano(2173 m), Kamchatka, on the right. The volcanoes Aag (2310 m, left), Koryaksky (3456 m, center) and Avachinsky (2741 m, right) rise abov...
Avachinsky volcano towering above Petropavlovsk, Kamchatka (Photo: Richard Roscoe)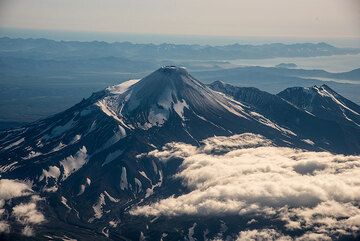 Koryaksky's neighbor volcano, Avachinsky follows a few moments later to the left. (Photo: Tom Pfeiffer)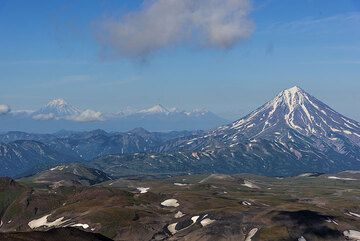 The views become better and better: Vilyuchik volcano and Koryaksky and Avachinsky volcanoes in the background. (Photo: Tom Pfeiffer)
Avachinsky volcano tours:

Kamchatka - Land of Colors
(volcano expedition to Kamchatka)

See also: Sentinel hub | Landsat 8 | NASA FIRMS