Apoyeque

(pyroclastic shield)

Apoyeque volcano forms the broad Chiltepe Peninsula in western Nicaragua and extends into south central Lake Managua
The Apoyeque volcano is part of a larger volcanic complex and consists of a low 500 m high shield cut by a 2.8 km wide and 400 deep lake-filled caldera and a... [mehr]
Apoyo

(Caldera)

[mehr]
Cerro el Ciguatepe

(Schichtvulkan)

Cerro el Ciguatepe volcano is located in the Nicaraguan interior highlands, east of the Nicaraguan depression and one of several Quarternary volcanoes in this area.
It contains a well-reserved 1.5 km wide summit crater, which contains a blocky lava dome and a young lava fl... [mehr]
Cerro Negro

(cinder cones)

Cerro Negro, Central America's youngest volcano was born in April 1850 and is one of the region's most active volcanoes. It has been producing frequent strombolian eruptions, occasional lava fountains and lava flows, and powerful explosive eruptions every few decades.
Cerro... [mehr]
Cerro San Jacinto

(Stratovolcano)

[mehr]
Concepción

(Schichtvulkan)

Concepción ist eine steile symmetrischer Stratovulkan mit eine perfekte Form und einer der aktivsten Vulkane von Nicaragua. In den letzten 100 Jahren hat es in einem in der Nähe von konstanter Zustand von kleinen bis mittleren Asche Explosionen in unregelmäßigen Abständen.
Zus... [mehr]
Cosigüina

(Schichtvulkan)

Cosigüina (or Cosegüina) volcano in western Nicaragua forms a large peninsula into the Gulf of Fonseca. The last eruption of the volcano was in 1959, but periods of unrest have occurred in recent years and in 1835, it produced the largest known historic eruption in Nicaragua.mehr]
Esteli

(vulkanische Gebiet)

Esteli volcano is a group of young fissure vents, cones and lava flows located 36 km south of Honduras in the northern interior highlands between the town of Estelí and the border. The volcanic center is not on the main volcanic front of Nicaragua, but 70 km NE of the main volcan... [mehr]
Granada

(fissure vents)

Granada volcano is a system of N-S trending fissure vents, cinder cones and craters located in western Nicaragua between the city of Granada (the oldest city founded by Europeans on the American continent) on the northwestern shore of Lake Nicaragua and the northern flanks of Mom... [mehr]
Las Lajas

(Schildvulkan)

Las Lajas is a basaltic shield volcano 20 km north of Lake Nicaragua. La Lajas is the youngest of a group of volcanoes east of the Nicaraguan graben. Based on its fresh morphology, it could be still active.
Las Lajas volcano has a 7 km wide and 650 m deep caldera, which co... [mehr]
Las Pilas

(vulkanische Gebiet)

Las Pilas volcano is a volcanic complex near Cerro Negro volcano 75 km NW of the capital Managua.
The volcano consists of several cones around the central vent, Las Pilas, which contains a 700 m wide and 120 m deep crater and is the site of the recent activity.
El Ho... [mehr]
Maderas

(Schichtvulkan)

Maderas volcano is a basaltic to dacitic stratovolcano on the SE end of Ometepe island in Lake Nicaragua. It has a a 800 m wide summit crater which contains the small lake Laguna de Maderas at the bottom.
Maderas is still active, but the latest activity dates back more than... [mehr]
Malpaisillo

(Pyroclastic shield)

[mehr]
Masaya

(caldera)

Masaya volcano 25 km SE from Managua is one of Nicaragua's most active and usual volcanoes.
In contrast to most other volcanoes in subduction zones, it has been erupting mainly fluid basaltic lava. At the time of the Spanish Conquistadors, it contained an active lava lake ... [mehr]
Mombacho

(Schichtvulkan)

Mombacho volcano is an active andesitic and basaltic stratovolcano located about 10 km south of the city of Granada, west of Lake Nicaragua and a few kilometers SE of Laguna Apoyo.
A possible historic eruption occurred in 1570, when a debris avalanche destroyed a village on... [mehr]
Momotombo

(Schichtvulkan)

Momotombo volcano is a symmetrical stratovolcano rising as a peninsula above the NW part of Lake Managua, Nicaragua. It is one of the most known volcanoes of the country.
Momotombo is located at the SE end of the Marrabios Range. It consists of the remnant of an older volca... [mehr]
Nejapa-Miraflores

(fissure vents)

Nejapa-Miraflores volcano is an alignment of fissure vents, maars and cinder cones extending from Lake Managua until the western part of Managua city.
About 40 eruptions have occurred from this system during the past 30,000 years, and the most recent one produced Asososca ... [mehr]
Rota

(Schichtvulkan)

Rota (also known as Orota) volcano in Nicaragua is located between the more active Cerro Negro and Telica volcanoes in the central Marrabios Range. It is a symmetrical stratovolcano truncated by a 1 km wide circular crater.
There are no recent eruptions from Rota, and the c... [mehr]
San Cristobal

(Schichtvulkan)

San Cristobal volcano, also known as El Viejo, is the highest and one of the most active volcanoes in Nicaragua. It is located near the northwest corner of the country near the city of Chinandega, 110 km WSW of the capital Managua.
San Cristobal has had frequent small to m... [mehr]
Tambor Grande

(Caldera)

[mehr]
Telica

(Stratovolcano(es))

Telica, einer der aktivsten Vulkane in Nicaragua, ist eine Gruppe von überlappenden Vulkankegel und-Krater auf eine breite Palette von NW. Die prominenteste Vent ist ein 700 m breit und 120 m Tiefe doppelte Krater auf dem Gipfel. Seine südlichen Gipfel Krater wurde die Quelle des... [mehr]
Volcan Azul

(cinder cones)

Volcán Azul (also known as Volcán Blue) a group of 3 cinder cones located on the Atlantic coastal plain of Nicaragua. The volcanic cones are in an area covered by dense rainforest and were discovered during an aerial survey in the 1960s.

Note: There is another mehr]
Zapatera

(Schildvulkan)

Zapatera volcano is a low shield volcano forming a 7 x 10 km wide densely forested island on the western part of Lake Nicaragua. The island is located opposite Mombacho volcano and separated by a narrow strait from the mainland.
Zapatera volcano... [mehr]
Mehr auf VolcanoDiscovery: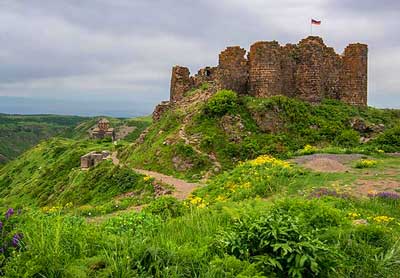 Land of Volcanoes & History
: Armenia, a small country in the South Caucasus, has a long dramatic history and a rich cultural heritage. Despite its compact territory, it has much to offer its guests: fascinating mountain landscapes with snowy volcano peaks, beautiful gorges and cliffs, alpine meadows and subtropical forests, monasteries hidden in valleys, archaeological sites and picturesque villages.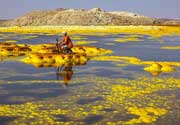 Arten von Touren
: Wir bieten eine Vielzahl von Touren, um vulkanische Gebiete: Vulkan Expeditionen und Specials, Entdeckungstouren mit Wandern, Fotografie, Natur und Kultur, pilot, Touren und individuelle Privattouren.