Epi volcano
Updated: Jul 6, 2022 16:09 GMT -
Refresh
Stratovolcanoes 833 m / 2,733 ft
Vanuatu, -16.68°S / 168.37°E
Current status: normal or dormant (1 out of 5)
Last update: 13 Dec 2021 (Smithsonian / USGS Weekly Volcanic Activity Report)

Typical eruption style:
unspecified
Epi volcano eruptions:
2004
Lastest nearby earthquakes:
No recent earthquakes
Background
A large caldera, with submarine post-caldera cones active in historical time, lies off the eastern coast of Epi Island. Epi Island itself, located slightly west of the main New Hebrides volcanic arc, largely consists of two Quaternary volcanoes, Mount Allombei on the west and Pomare (Tavani Kutali) on the east. Tavani Ruro, which forms an elongated eastern extension of Epi Island across a narrow isthmus, is related to Kuwae caldera to the east. Pomare volcano is the highest point on the island and has three well-preserved subsidiary cones to the east with youthful summit craters. Pomare volcano is truncated on its eastern side by the largely submarine East Epi caldera, which has been the source of all historical eruptions. Three small submarine basaltic and dacitic cones, known as Epi A, Epi B, and Epi C, are located along the northern rim of the breached caldera. Ephemeral islands were formed during eruptions in 1920 and 1953, and the summit of the shallowest cone, Epi B, was at 34 m below sea level at the time of a 2001 survey.
---
Smithsonian / GVP volcano information
Epi Photos
The Chelona lava dome and the gulf of Epidavros in Greece (Photo: Tobias Schorr)
Dead wood and a poison catepillar in the crater of Papadayan volcano (Photo: Tobias Schorr)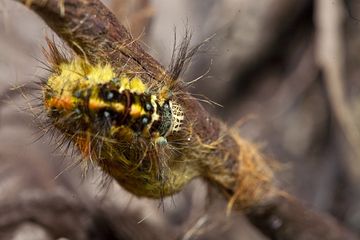 Poison catepillar in the Papadayan crater (Photo: Tobias Schorr)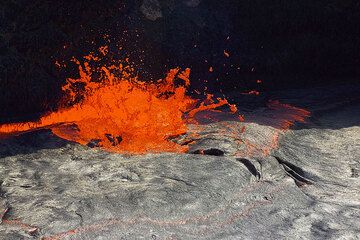 "Lava fountains" are near-continuous gas bubbles escaping from the lava lake: they are the motor of the lake, transporting heat energy from the magma chamber to the surfa...

See also: Sentinel hub | Landsat 8 | NASA FIRMS